The name of Shri Krishna is considered incomplete without Radha. Born in Barsana of Braj i.e. Mathura-Vrindavan, Radha was born on the Ashtami Tithi of Shukla Paksha of Bhadrapada month known as Radha Ashtami. It is celebrated as Radha Ashtami. Radhashtami of 2023 is on 23rd September 2023. There is a religious belief that due to the effect of this fast, the devotee gets the desired results. This day is special for the devotees of Radharani. Devotees circumambulate the Gahwar forest situated on the high hill of Barsana in Braj.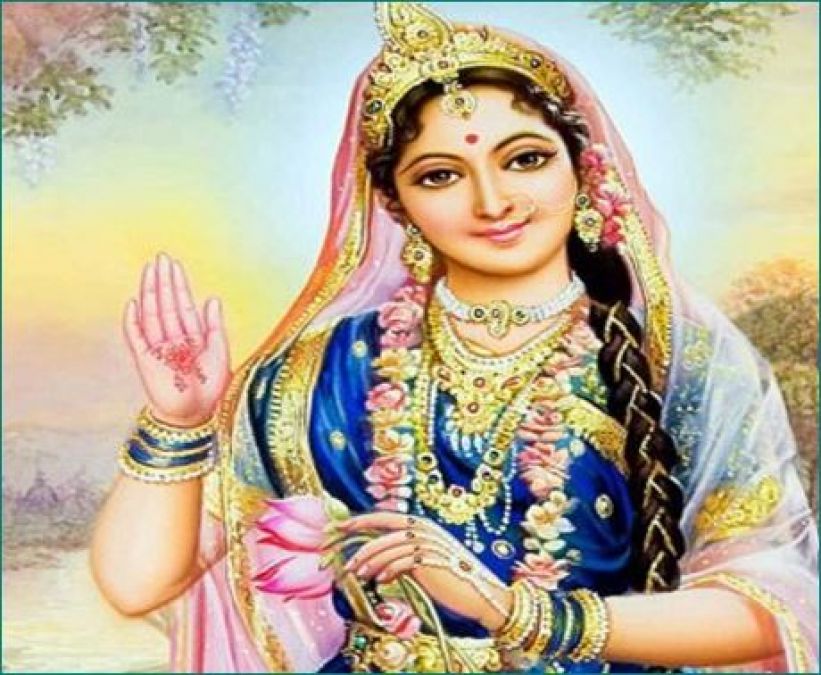 Radhashtami story
According to beliefs, Radhaji's father's name was King Vrishabhanu and mother's name was Kirti. This is also mentioned in Padma Purana. Once when King Vrishabhanu was cleaning the land for a yagya, he found Radha ji in the form of a girl on the land.
After this, King Vrishabhanu started raising the girl considering her as his daughter. When Radha ji grew up, her life was first spent in the company of Krishna ji. According to the Puranas, Radha ji was the incarnation of Mother Lakshmi. When Krishna ji was born in Dwapar Yuga, Mother Lakshmi ji also appeared in the form of Radha.
Radhashtami importance
In the Vedas, Puranas and scriptures, Radha ji has been praised by calling her Krishna Vallabha. By listening to the story of Radhashtami, devotee become happy, wealthy and blessed with all the virtues. Salvation is attained by chanting and remembering Shri Radha ji.
It is believed that if Radha ji is not worshiped or remembered, then even Lord Shri Krishna does not accept the worship, chanting and penance done by that devotee. Shri Radha Rani is considered to be the presiding deity of the life of Lord Shri Krishna. Therefore, along with Krishna ji, Shri Radha Rani ji should also be worshiped properly.
Fast is observed
By observing fast on Radha Ashtami Tithi and worshiping as per rituals, one gets the blessings of Lord Krishna and Radha Rani and increases in age, wealth, respect, fame and good fortune. Those who keep fast on Krishna Janmashtami, they should also keep fast on Radhashtami. By fasting and worshiping on this day, one attains all the happiness and there are chances of happiness, peace and prosperity in the family.
Radha Rani and Krishnaji are worshiped on the day of Radha Ashtami. In mythological scriptures, Radharani is considered to be the form of Mahalakshmi. There is also a tradition of worshiping Lakshmi on this day. Radharani is considered to be Bhagwati Shakti and she is the presiding deity of the entire Braj region.
Radhashtami worship
On the day of Radhashtami, one should wake up early in the morning and clean the house. After taking bath etc., one should resolve to fast with a pure mind. After that, first of all bathe Shri Radha Rani with Panchamrit, after bathing, do her makeup. Install the idol of Shri Radha Rani. After that, Shri Radha Rani and Lord Shri Krishna should be worshiped with incense sticks, fruits, flowers etc.
After performing aarti and worship, one should offer bhog at the end. One should fast on this day by remaining fasting. After performing evening aarti one should eat fruits. In this way the story of Radha Ashtami ended.