Why Modak is offered to Lord Ganesh?
India is a land of festivals and traditions. Each festival has its own story behind the celebration. We celebrate Ganesh Chaturthi with great enthusiasm and devotion all over India.
History
As the belief lays on the birth of Lord Ganesh, Goddess Parvathi created the idol with sandalwood paste in the absence of Lord Shiva and put him guard while she had gone for bathing. Meanwhile, Lord Shiva headed back and Ganesh without the knowledge of who Shiva is; stopped him from entering inside, as it was his mother's orders.
Lord Shiva provoked by this action! cut off the head of Ganesh, and Parvathi seeing this sight, took the form of Maa Kali threatening to destroy the world, if he did not bring the child back to life. In order to calm down Maa Kali, Lord Shiva ordered his followers to bring the head of anyone who was sleeping with the head, facing the north direction. As a result of which, his followers brought the head of an elephant and immediately Lord Shiva placed the head on Ganesh's body and brought back him to life. And the day is celebrated for the same reason.
Celebration:
On the first day of festival, we install lord Ganesh's idols in homes and the celebration goes on with chants, bhajans and offering varieties of dishes to the Lord; specially sweets. Now, coming to offering sweets, Modak takes the first and predominant place! Yes, how can we even imagine Ganesh Chaturthi without Modaks? We often associate Modaks with Ganesh Chaturthi, but why is it so? May be, a very few of us know about the history. So, here let's read about the fascinating story about Lord Ganesh's favorite sweet Modak.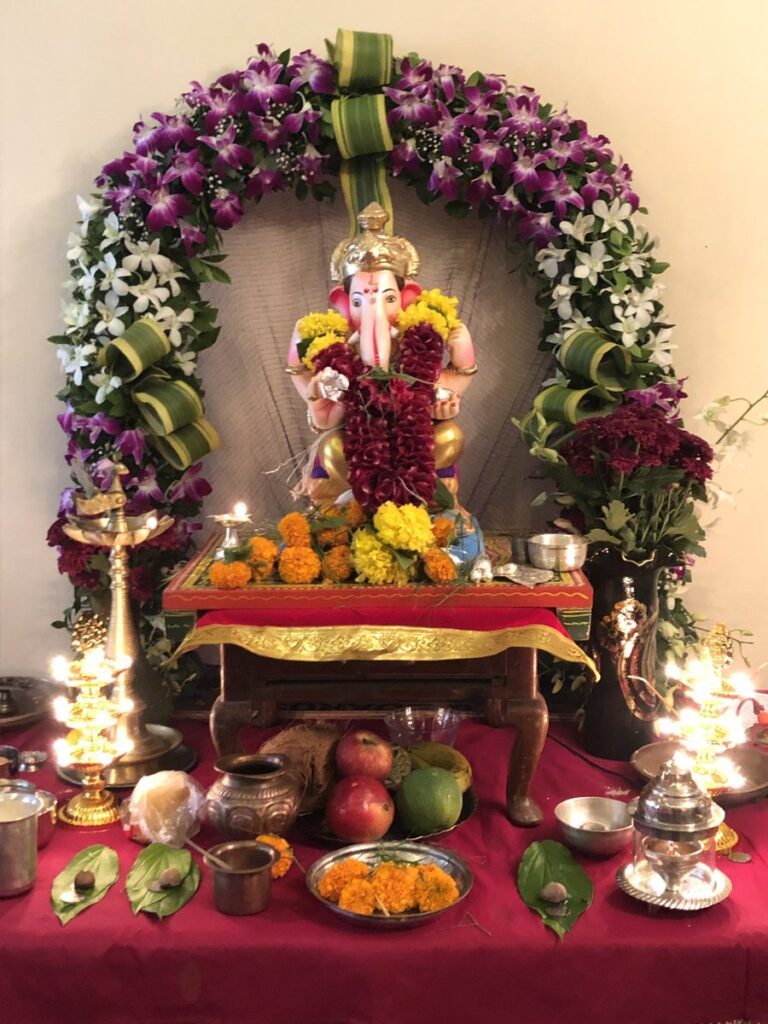 History of Modak becoming Lord Ganesh's favorite:
The history goes back to the age of Rishis. Once, Lord Shiva and Goddess Parvathi along with Lord Ganesh visited Maharshi Athri's ashram. Athri Maharshi and his wife Anasuya Devi, overwhelmed by the arrival of Layakarak's family came forward to offer feast to all three. Anasuya Devi as per her desire wanted to feed Lord Ganesh first, even before his parents. Lord Ganesh went on eating everything that Anasuya Devi offered, yet was still hungry.
Offering Modak to Lord for the first time:
Finally, Anasuya Devi offered a dessert to Lord Ganesh which after consuming, Lord Ganesh belched for 21 times. Bewildered by the rarity, Goddess Parvathi asked Anasuya Devi about the dish that gratified her son's hunger! Ansuya Devi explained to Maa Parvathi that, "it's is a sweet stuffed dish prepared using rice flour and is named as Modak". Parvathi Devi exhilarated by this stated that whoever offers 21 Modaks; Lord Ganesh will bless them with all good fortune. This is why we give more priority to Modaks and the number 21 over other offerings.