It is mentioned everywhere in the mythological texts that Gods, Yakshas, Kinnars, Demons, Humans, etc. all used Yantras and also benefited from its glory. The success of their attainment depends on the hard work of the seeker. Lord Brahma himself discovered many meaningful Yantra for human welfare, whose worship and prestige are still performed in various mythological places in India. The glory of some public utility Yantra kavach is also described in the book named Indrajal written by Lord Dattatreya.
Four basic types
Yantras of deities – It is of gods and goddesses.
Yantras with Astrological significance – It is of palnets like Navagraha Yantra, Kalsurpa Yantra, Nakshatra Yantra.
Architectural Yantras – These are used for the ground plans of lands like Vastu Yantra, Bhumi Yantra.
Numerical Yantras – It comprises selected combinations of numbers which serve as talismans like Kuber yantra, Rog Nivaran yantra, Beesa Yantra etc.
Purposeful Yantras – Those meant for a certain purpose like Lagna yog for early marriage, Santan gopal for begetting a child, Vashikaran for attraction.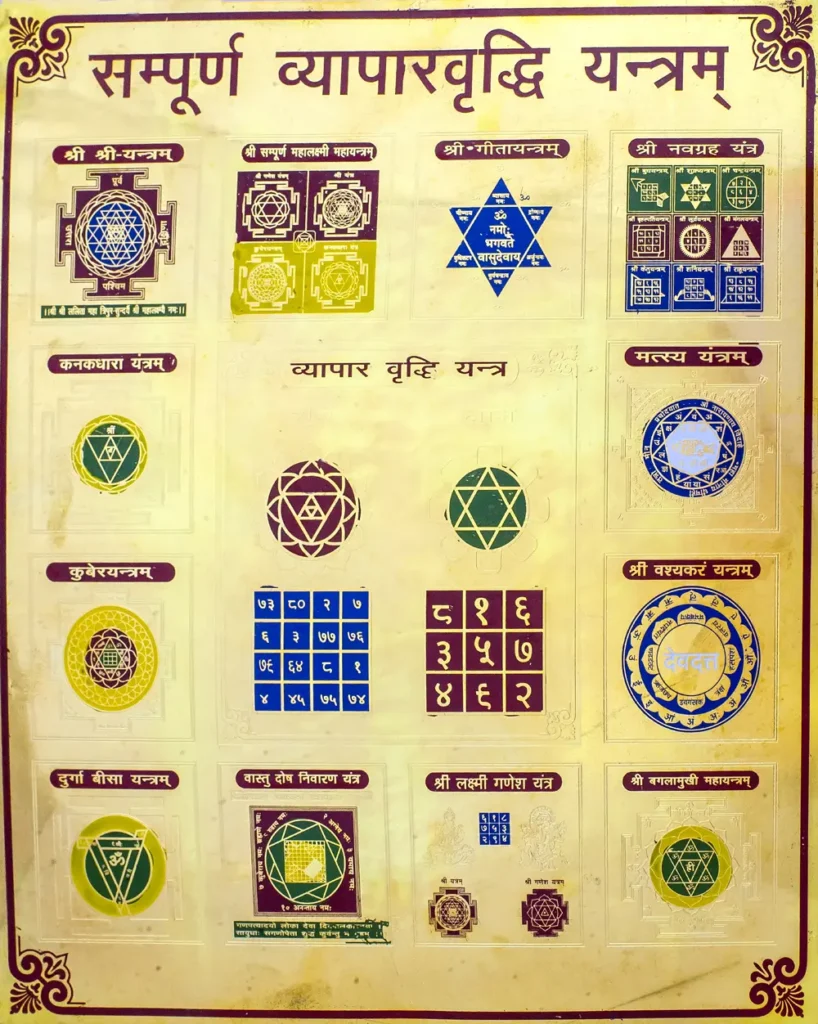 Shriyantra

This is the most popular symbol yantra. The main meaning of the word 'Shri' is Maha Tripura Sundari. The word 'Shri' also means Lakshmi. It is also called Trailokya Mohan i.e. the one who hypnotizes the three worlds. Because it is the protector of all, the cure of all diseases, and the destroyer of all sufferings, it is considered to be the provider of all success, the seeker of all, and the giver of all good fortune. It is cleaned with Ganga water and milk and kept at places of worship, business places, and other pure places. It is worshiped facing east. Shri Yantra directly means the yantra for attaining Lakshmi. Bindu is said to be the breeding center of secret powers full of supernatural powers and miracles.
Just as Chandi Kavach is the best among all the armors, similarly the Yantra of Shri Devi has been said to be the best among the yantra of all the Gods and Goddesses. For this reason, it has also been named Yantraraj and Yantra Shironi. If it is Sunday on the day of Diwali, Dhanteras, Basant Panchami, or Sankranti of Paush month, then making and worshiping this Yantra is considered especially fruitful.
Shree Mahalaxmi Yantra

Goddess Kamala is the presiding deity of Shri Mahalakshmi Yantra, that is, while worshiping this Yantra, one should meditate on Lakshmi sitting on Kamalasana, bathing with a golden pot by white elephants. According to scholars, Lakshmi is attained by daily darshan and worship of this yantra. The worship of this Yantra is not based on Vedas but is based on Puranas. In this, the structure of Bindu, Hexagon, Circle, Ashtadal, and Bhupur has been made. Its worship is important in Dhanteras, Deepawali, Basant Panchami, Ravi Pushya, and such auspicious yogas. It is believed that by worshiping this yantra made of gold, silver, and copper, Goddess Lakshmi resides permanently in the house and at a particular place.
Shri Ganesh Yantra

Ganesh Yantra is the giver of all achievements and various types of achievements and accomplishments. Ganpati meditated on this. A noose in one hand, Ankush in the other, a tusk adorned with modak and varied mudra, three-eyed Kanaka, and Ganapati seated on the throne are praised.
Due to the effect of this Yantra, Lord Ganesha becomes pleased and showers Riddhi-Siddhi on a particular person. The seeker experiences the blessings of the devotee. The obstacles coming in his work are automatically removed. The person gets immense wealth, fame, and fortune. By making and worshiping this Yantra on the day of Ravi Pushya, Guru Pushya, or Ganesh Chaturthi, the desired success is achieved.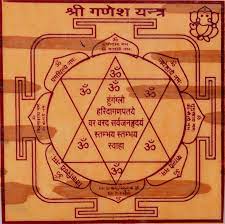 Shri Durga Yantra

This is the Yantra of Shri Durga Ambe Mata. At its core lies the importance of the Nirvaana Mantra. By chanting the Nirvaan Mantra while meditating on Shri Ambe ji, one gets the desired results. Especially in times of crisis, this Yantra is consecrated and worshipped.
Making and worshiping this Yantra on the day of establishment or Ashtami during Navratri is considered especially fruitful. Chanting verse 17 of Chapter 4 of Durga-Saptshati on this Yantra destroys sorrow and poverty. A person gets freedom from debt and also freedom from disease due to the effect of this yantra.
Kuber Yantra

This is the Yantra of wealth lord Dhanesh Kuber. Due to the effect of this Yantra, Yaksharaj, and Kuber are pleased and protect Atul's property. This instrument is also made of gold and silver leaves. Where other sadhanas for attaining Lakshmi fail, worshiping this Yantra gives quick benefits. Kuber Yantra is made on Vijay Dashami, Dhanteras, Diwali, and Ravi Pushya and Raviguru. Kuber Yantra is installed in cabinets, safes, and closed cupboards. The use of Kuber Yantra holds an important place in the practices of attaining Lakshmi.