What is Braj Chaurasi 84 Kos Yatra?
Shri Krishna grew up in Braj itself. Many of his Leelas are seen and heard in Vrindavan, Gokul, etc. But do you know about the Chaurasi 84 kos yatra of the Braj? In this article, you will know about the Braj Chaurasi 84 Kos Yatra…
Importance of Braj Chaurasi 84 Kos Yatra
It is said in the scriptures that the person who travels to the 84 Chaurasi kos yatra of Braj does not have to wander in 8400000 (84Lakh) yonis.
Story of 84 Kos Journey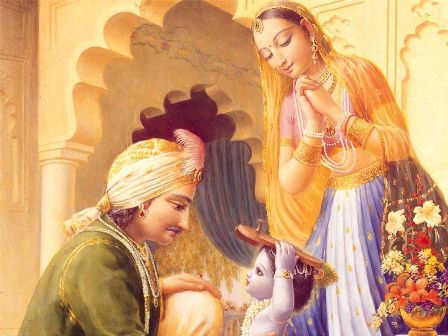 When Krishna ji was a child, once Nand Baba i.e. his father expressed his desire to visit Char Dham. Then Shri Krishna tells them that they live in Braj and Braj itself is like all the pilgrimages, so what is the need for Char Dham Yatra, but still on repeated requests of Nanda Baba, he was ready to go with him for Char Dham Yatra.
The first stop was there at Gyan Gudari in Vrindavan, where Nanda Baba stops for rest at night. He was unable to sleep due to the excitement of the Char Dham Yatra. So He came out of their rest house and stand up.
At the same time, 7 black herons come there and roll in the Dust of Braj (Braj Raj) then turn white and go back.
After that four black swans come and roll in the dust of Braj and they turn white. Seeing this whole incident, Nand Baba is very surprised and wonders what is happening.
After this a black horse comes there, that too rolls in the Dust of Braj and becomes white. When he starts leaving, Nanda Baba stops the horse and bowed to him, and asked him, O God, who are you, where have you come from and you were black? How did you become white? Further Nand Baba says that before you, four black swans and seven herons also came here. Similarly, he also turned white and left.
Why 84 Kos Braj Yatra equal to Chaar Dhaam ?
The horse whom Nand Baba asked questions was Prayagraj Tirth. He tells Nanda Baba that the seven herons that you saw were not herons but Seven Puris because many people go to Puri, and do sinful deeds there so that the Puris become contaminated and burdened with Sin. And being burdened with sin, she turns black. Then all those seven Puris come here in Braj in GyanGudari and roll in the soil here and go white, that is, lightened from the burden of sins.
In the same way, those four swans were also not swans but Char Dhams. He also came here to reduce the burden of his sins and returned again after being purified. Then that horse tells that I am Prayagraj, the king of pilgrimages. When I too become burdened with sin, then I come here to purify myself. Saying this he too leaves from there.
How Did The 84 Kos Yatra Come To Be
When Nand Baba tells all this to Shri Krishna and says that now I will not go on Char Dham Yatra because when all the pilgrimages, Puris and Char Dham come in Braj. Then there is no need to go to Char Dham Yatra. but In Nanda Baba, There was a desire to go to the Char Dhams, So within 84 kos, Shri Krishna, invoking the Char Dhams, the seven puris, and all the pilgrimages, established them in Braj itself and told his father that Baba, you should visit this Braj Chaurasi Kos. By which you will get the fruits of all the pilgrimages, Char Dhams, etc. Nand Baba was the first person who traveled for 84 Chaurasi kos Braj Yarta.