Dasha Mata's fast is observed on the tenth day of Krishna Paksha of Chaitra month. This year this date is on March 17, Friday. According to belief, worshiping Dasha Mata on this day brings happiness and prosperity in the family and ends troubles. Dasha Mata is none other than incarnation of Mother Parvati. There is also a law to worship Triveni – Peepal, Neem and Banyan trees on this day.
Dasha Mata Swaroop
Dasha Mata is a form of feminine power , incarnation of Mata Parwati. Mounted on a camel, this form of Mother Goddess is depicted with four hands. She holds a sword and a trishul in the upper right and left hands respectively. And in the bottom right and left hands are wearing lotus and armor.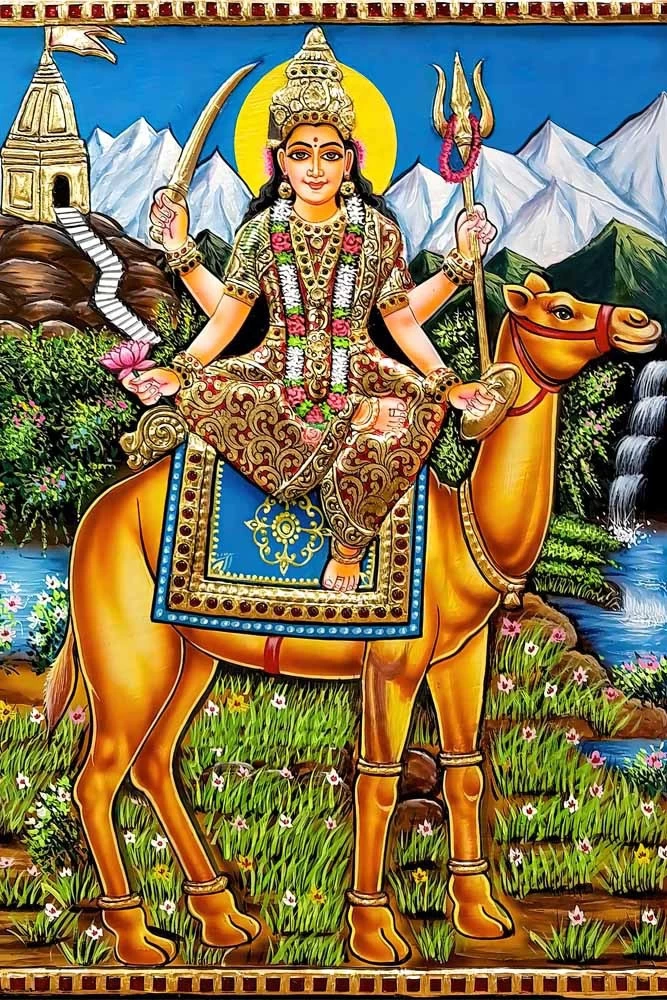 How Dasha Mata Pooja is done ?
On Dasha mata vrat morning, after taking bath etc, take a vow of fasting and worship. After this, worship the Peepal tree considering it as the form of Lord Vishnu. Make a thread of 10 strings of raw yarn and tie 10 knots in it and worship it. Chant the mantras of Lord Vishnu while doing 10 circumambulations of the Peepal tree. Light a lamp under the tree. Offer things like abir, gulal, kumkum, rice, flowers etc. After worship, sit under the tree and listen to the story of Nal Damayanti – Katha. After coming home, apply turmeric kumkum hands on both sides of the door. Keep fast on this day and eat food without salt in the evening. By worshiping in this way, happiness-prosperity remains in the house and troubles stay away.
Story of Dasha Mata
Once upon a time there was a mighty king named Nala, his wife's name was Damayanti. One day Queen Damayanti fasted for Dasha Maa and tied a thread around her neck. The king took out that thread on some issue and threw it away. The same night Dasha Maa appeared in the king's dream in the form of an old woman and said that "Your good times are going and bad times are coming, because you have insulted me." Had to wander Along with the king, the queen also started wandering here and there.
The king was also accused of theft. One day when the king saw an old woman with a dream, he said, "Mother, forgive me for forgetting. I will worship Dashamaa along with my wife. The old lady also told him the method of worship. The king worshiped Dashamaa according to the same method and tied Dasha mata's thread around his neck. With the effect of this fast, the king's condition improved and he got his kingdom again.