The Gods and Goddesses are the representatives of the one Brahman. There are 33 types of Gods and Goddesses and the above 33 types of Gods and Goddesses have thousands of clans which are called Devgana. Each God and Goddess has a vehicle. Although the Gods and Goddesses do not need a vehicle to go anywhere, but it should be understood that how much importance these vehicles have.
Let us know the real story of the vehicles of the deities. Gods and Goddesses have chosen some animals or birds as their vehicles, so their special ability has been behind it.
Why are animals and birds only vehicles?
For spiritual, scientific, and practical reasons, Indian sages have associated animals and birds as vehicles of Gods. It is also believed that animals have been associated with Gods according to their behavior. If animals were not associated with God, then perhaps the behavior of violence towards animals would have been more. Indian sages have given a message to protect nature and the creatures living in it. Every animal is the representative of one or the other god, it is their vehicle, so violence should not be done to them.
Vishnu's vehicle Garuda
Garuda is the vehicle of Lord Vishnu. Prajapati Kashyap's wife Vinata had two sons – Garuda and Arun. Garudji went to the shelter of Vishnu and Arunji became the charioteer of Surya. Sampati and Jatayu were the sons of this Arun. There is a lot of discussion about Sampati and Jatayu during the time of Rama.
Owl, the vehicle of Maa Lakshmi
Owl is the most intelligent nocturnal animal. Owls already know the past and future. Owl is considered a symbol of auspiciousness and wealth in Indian culture. Although most people are afraid of it. Because of this fear, it is also considered inauspicious. Mostly it is believed that it works for Tantrik Vidya. Many strange beliefs are spread about owls in the country and abroad. It wakes up when the whole world is sleeping. The hoo hoo hoo pronunciation of an owl is also a mantra.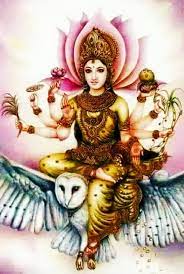 How the owl became the vehicle of Lakshmi?
After creating the animal world, one day all the gods and goddesses came to roam the earth. When the animals and birds saw them roaming on the earth, they did not like it and they all gathered and went to them and said that we are blessed to have been born by you. We will take you wherever you want on earth. Please choose us as your vehicles and bless us.
The gods and goddesses obeyed them and started choosing them as their vehicles. When Lakshmiji's turn came, she was confused as to which animal or bird to choose as her vehicle. Meanwhile, there was a competition among animals and birds to become Lakshmiji's vehicle. Here, Lakshmiji was thinking and thinking, till then a fight started between animals and birds.
On this, Lakshmi ji silenced them and said that every year on the day of Kartik Amavasya, I come to roam the earth. That day I will make one of you my vehicle. On the day of Kartik Amavasya, all the animals and birds started staring at the path of Lakshmiji. As soon as Lakshmiji came to the earth at night, the owl saw her with his sharp eyes in the dark and reached near her at a fast speed and started praying to her to accept him as her vehicle. Lakshmiji looked around and did not see any animal or bird there. So she accepted the owl as her vehicle. Since then they are called Uluk Vahini.
Swan, the vehicle of Maa Saraswati
Swan is a pious, curious, and intelligent bird. The best vehicle for Mother Saraswati, the goddess of knowledge, could have been a swan. Mother Saraswati sitting on a swan tells that curiosity can be pacified only by knowledge. Purity, morality, love, and sociality develop in life only through knowledge. What is knowledge? To know whatever is ignorance is the first sign of being knowledgeable.
Nandi bull, the vehicle of Lord Shiva
According to legend, Rishi Shilad found Nandi in the form of a son after the penance of Shiva. He also provided Vedadi knowledge and other knowledge to Nandi. One day two divine sages named Mitra and Varuna came to Shilad Rishi's hermitage and Nandi served them well by the order of the father. When they started leaving, they blessed the sage with long life and happy life but not Nandi. Then Shilad Rishi asked him why he did not bless Nandi?
Then the sages said that Nandi is short-lived. Shilad Rishi got worried after hearing this. Sensing father's concern, Nandi asked what is the matter, then father said that saints have said about your short life, that's why I am worried. Hearing this, Nandi started laughing and said that you have found me by the grace of Lord Shiva, so you will protect my age there as well, why do you worry unnecessarily. As soon as he said this, Nandi went to the banks of the Bhuvan river to do penance for Shiva. Shivji appeared after harsh penance and said, ask for a boon, Vats. Then Nandi said that I want to live in your company forever. Pleased with Nandi's devotion, Lord Shiva first embraced Nandi and gave him the face of a bull and accepted him as his vehicle, his friend, the best of his ranks.
The vehicles of Maa Parvati and Durga are Tiger & Lion
The vehicle of Maa Parvati is a tiger and the vehicle of Maa Durga is a lion. Mata Durga is called Sherawali. Tiger is the vehicle of Mother Parvati. The tiger is a symbol of indomitable courage, ferocity, aggression and valor. These three characteristics are also seen in the conduct of Maa Parvati.
One day Mother Parvati and Lord Shiva were sitting together. In jest, Shivji called Mata Kali. Mother felt very much and she left Kailash and went to a forest and got engrossed in harsh penance. Meanwhile, a hungry lion reached there with the desire to eat Maa Parvati, but he sat there silently.
Due to the influence of the mother, that tiger also sat there quietly for years with the mother doing penance. The mother had insisted that she would do penance here until she becomes Gauri. Then Shivji appeared there and went away after giving the boon to the goddess to be Gaura. Then the mother took a bath in the nearby river and later saw that a tiger was sitting there silently watching the mother carefully. When Mother Parvati came to know that this lion has been sitting here with her in penance for years, the mother was pleased and made him her vehicle as a boon. Since then the vehicle of Mother Parvati became a tiger.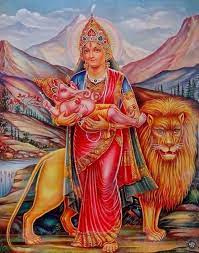 Ganeshji's vehicle mouse
The vehicle of Shivputra Ganesha is the mouse. The word mouse is derived from the Sanskrit word mush which means to rob or steal. Symbolically, the human mind is like a mouse, a thief. It falls due to selfishness. Ganesha's sitting on a rat is a sign that he has conquered selfishness and has awakened the spirit of public welfare within himself.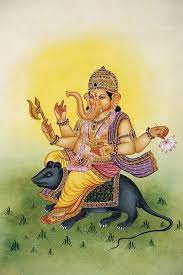 Kartikeya's vehicle Peacock
According to Hindu mythology, the vehicle of Lord Murugan, or say Kartikeya is a peacock. Kartikeya's vehicle is Peacock. According to a legend, this vehicle was gifted to Kartikeya by Lord Vishnu only after seeing his virtuous ability. Peacock's pride is fickle. It is very difficult to cultivate a fickle mind. Kartikeya kept his mind together. In another story, it is told along with Kartikeya as the destroyer of arrogance. Kanda Puranam, the Tamil version of 'Skanda Purana' written in the Sanskrit language, mentions that Lord Shiva's son Murugan (Kartikeya) defeated the demon Taraka and his two brothers Simhamukham and Surapadman in the Devasura Sangram. When Simhamukham apologized for his defeat, Murugan turned him into a lion and ordered him to serve as the vehicle of Mother Durga.
On the other hand, Sapapadamna (Surapadam) takes the form of a mountain while fighting Murugan. Murugan breaks the mountain in two with his spear. One part of the mountain becomes a peacock which becomes the vehicle of Murugan while the other part becomes a cock which becomes the symbol of Murugan on their flag.
White elephant, the vehicle of Indra
Indra made an elephant named Airavat his vehicle. Airavat, one of the 14 gems, was also born during the churning of the ocean. The elephant is a symbol of a calm, sensible, and sharp mind. Airavat has been described as having four teeth. 'Ira' means water, hence the elephant born from 'Iravat' (ocean) is named Airavat.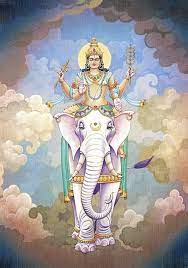 Yamraj's vehicle Buffalo
The god named Yama, who is called the god of death. These are called Dikpal of the south direction. Yamraj has been described as riding a buffalo. Buffalo is also known for its strength and agility. The way form of a buffalo is terrible, in the same way, the form of Yamraj is also terrible. Hence Yamraj uses him as his vehicle.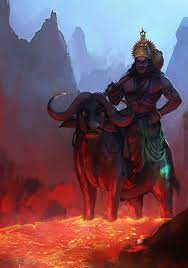 Ganga's Vehicle Crocodile
Goddess Ganga's vehicle is a crocodile. Crocodile is the leading animal that roams in the water of rivers like the Indus, Ganga, Narmada, Brahmaputra, Kaveri, etc.
Shani dev's vehicle crow
Very few people would know that Shani Dev's ride is not only a crow or a vulture, but the entire 9 rides are of Shani Dev. These are- vultures, horses, donkeys, dogs, lions, jackals, elephants, peacocks,s and deer. It has been said in the scriptures that whichever vehicle Shani Dev rides on and goes to, that person is responsible for the fruit accordingly. Although the crow is considered his main ride.
The crow is an intelligent creature. The crow is considered to be an indicator of guest arrival and the ashram of ancestors. According to a story in the Puranas, this bird had tasted the nectar, so according to belief, this bird never dies a natural death. It does not die due to any disease or old age. Its death happens by accident. On the day a crow dies, none of its companions eat. The crow never eats food even alone, it takes food by sharing it with a companion. In Vishnu Purana, it has been said to offer food as much as possible with devotion and humility in the Shraddha Paksha. Considering the crow as the symbol of ancestors, they are fed for 16 days of Shraddha Paksha.
Lord Bhairav's vehicle dog
A dog is a mysterious creature. In the Hindu religion, it is considered to be a creature of sharp intelligence and knowing secrets. In many cases it protects humans. The dog is considered a servant of the Hindu deity Bhairav Maharaj. Giving food to the dog pleases Bhairav Maharaj and protects the devotee from all kinds of sudden troubles. It is believed that by keeping the dog happy, it does not let even the Yamdoot wander around you. Seeing a dog, all kinds of souls start running away. A dog can make you a king from a ruffian and a ruffian from a king.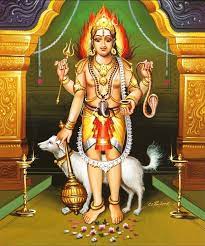 Apart from this, Aditya's vehicle is seven horses, Varuna's vehicle is seven swans, Brahma's vehicles is seven swans, Maheshwari's is bull, Durga's is a lion and Agni's is Aries, etc. There are more other vehicles of different gods and goddesses.