Lord Ganesha is worshiped before starting any auspicious work in the Hindu religion. Devotees also know Ganesha by the name of Gajanan. Because Lord Ganesha has the head of an elephant while the whole body is like a human. Everyone knows this story that after Ganesha's head was cut off, he was given the head of an elephant, but do you know where is the real head of Ganesh?
You will be surprised to know that the real head of Lord Ganesha is still present in a cave. It is said that Lord Shiva got angry and cut off Ganesha's head and kept it in a cave. This cave is known as 'Patal Bhubaneswar
'. Here Lord Ganesha is also called
Adi Ganesh.
This cave was discovered by
Adi Shankaracharya.
This cave is situated at a distance of 14 kilometers from
Gangolihat of Pithoragarh in Uttarakhand.
Lord Shiva protects the head
Here Lord Shiva himself protects the head of Lord Ganesha present in the cave. Just above the rock-cut idol of Lord Ganesha, there is a rock in the form of a Brahmakamal with 108 petals. Divine drops drip from this Brahmakamal on the rock-like head of Lord Ganesha. It is said that this Brahmakamal was established here by Lord Shiva,he himself protects Ganesha's head.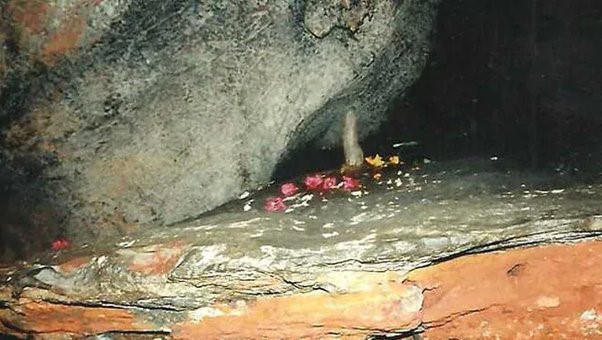 Four ages symbols present in Cave
Four stones are installed in this cave as symbols of the four ages. It is said that one of these stones, which is considered to be the symbol of Kalyug, is slowly rising up. It is believed that the day this stone symbolizing Kalyug will hit the wall, that day Kalyug will end.
Kedarnath, Badrinath and Baba Amarnath are also visible inside this cave. Big piles of stone are spread near the cave of Baba Amarnath. The tongue of Kalbhairav can also be seen in this cave. It is believed that if a person enters the womb through the mouth of Kalbhairav and reaches the tail, then he attains salvation.