In Hinduism, there is special importance of worshiping God. It is believed that God is pleased quickly by worshiping, chanting and offering worship material. In Hinduism no worship or religious rituals are considered complete without offering flower. Flowers are the first and foremost of all the ingredients involved in the worship of the deities.
In Hinduism, there is a law to worship many gods and goddesses at different times and the method of worshiping each god and goddess is also different. It has been told in the scriptures that which flowers are especially dear to which gods and goddesses and which flowers are prohibited to be offered. On offering their favorite flowers to God, they become very happy and quickly fulfill all the wishes of the devotees.
Lord Shri Ganesh
Among all the deities, Lord Ganesha is worshiped first before doing any auspicious work. The scriptures believe that all types of flowers can be offered to Ganesha except basil. Durva is very dear to Ganesh ji.
Lord Shiva
Lord Shiva is such a deity who becomes happy with just a glass of water. Usually, he is offered with wild and forestry flowers like Dhatura, Harsingar, white flowers of Nagkesar, Kaner, Kusum, Aak, Kush etc. to Lord Shiva.He is fond of Bel Patra. Offering Ketki flower and Tulsi to Lord Shiva is considered prohibited.
Lord Vishnu
Lord Vishnu gets pleased very quickly by offering Tulsi Dal. Apart from Tulsi leaves, Lord Vishnu loves lotus, Maulsiri, Juhi, Kadamba, Kevda, Jasmine, Ashoka, Malti, Vasanti, Champa, Vaijayanti flowers. There is great importance in worshiping Lord Narayan with Ketaki flowers in the month of Kartik. But Aak and Dhatura should not be offered to Vishnu.
Surya Narayan
Lord Surya is the visible deity. To please them, there is a tradition of regularly offering water and red colored flowers. He also loves Aak, Ashok, Palash , Kutj etc.
Lord Krishna
Lord Krishna is worshiped in his child form, which is called Laddu Gopal. Kanha ji loves the offering of Tulsi and Roses very much. Apart from this, the flowers of Kumud, Karvari, Chanak, Malat, Palash and Vanmala are dear to Lord Krishna.
Lakshmiji
The most favorite flower of Maa Lakshmi is red and white lotus. She can also be pleased by offering yellow flowers. She also loves the red rose flower very much.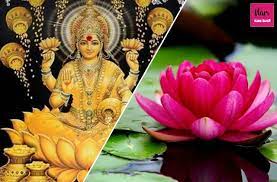 Hanuman ji
Red color is very dear to Ram devotee Hanuman. Offering red flowers in the worship of Hanumanji is especially fruitful. That's why flowers like red rose, red marigold, hibiscus and pomegranate are offered on them.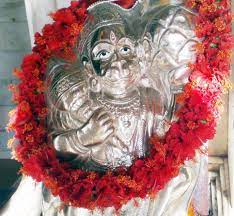 Mother Kali
Red colored flowers can be offered in the worship of Maa Kali. Hibiscus flower is very dear to her and it is believed that by offering 108 red hibiscus flowers or garlands to her, wishes will be fulfilled soon.
Maa Durga
Red colored flowers are especially dear to Mother Durga. Especially hibiscus and rose flowers. Apart from this, offering flowers of Bela, White Lotus, Palash, Pink and RedRose, Champa also pleases the Goddess. Pink, Red shaded flowers and Kaner can also be offered.
Maa Saraswati
White or yellow flowers are offered to please Mother Saraswati, the goddess of learning. Mother Saraswati is very pleased with white rose, white kaner or even yellow marigold flower.
Shani Dev
Shani Dev's favorite color is blue. In such a situation, to please Shani Dev, blue Lajwanti flowers, blue lotus, blue aparajita, blue bells etc should be offered, apart from this, offering any blue, purple or dark colored flowers makes Shani Dev happy soon.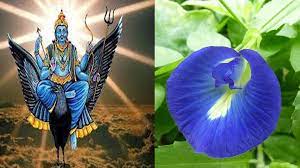 Things to keep in mind while offering flower to God and Goddess
Flowers should always be offered upside down towards the idol. Flowers should always be offered straight. Not the other way around, but the Bilvapatra can be offered upside down. If an inverted flower is also placed in the wreath, then there is no fault.
Always use thumb, middle and ring fingers while offering flowers to God. Keep in mind that the little finger should not be used while offering flowers.
God should not be offered a bud of any other flower other than Champa flower, it causes defects and can lead to loss of happiness and prosperity.
Flowers that are pure, stale, eaten by insects, broken, fallen on the ground and begged from others or stolen are discarded.
Lotus and Kumud flowers do not get stale for five days. It has been said in the scriptures that like belpatra and Ganga's water, Tulsi leaves also never get stale. If new Tulsi leaves are not available for worship, then you can also offer old Tulsi leaves. Also, broken and torned leaves and flowers of bilvapatra, paan and basil can not be offered.
Take precautions while plucking flowers It is prohibited to pluck flowers after 12 o'clock in the day. Don't pluck Tulsi on Sunday. Don't touch and pluck flowers on Amavasya.
Don't offer Ketaki or Kund flower to Lord Shankar, Dhatura to Vishnu, Tulsi to Ganesh, Aak flowers to Goddess Durga and Tagar flower to Surya even by mistake.