Ramayana is one of the most popular and important epics in Hinduism. Lord Vishnu and Mother Lakshmi were incarnated on earth in the form of Rama & Sita in Treta Yuga for the welfare of the world. Even today, there are 8 such places of Ramayana, where Ram had spent his days of life.
Ayodhya

Lord Rama was born in Ayodhya. Ayodhya was the capital of the Kaushal Kingdom in the Ramayana period, Rama was born at Ramkot, south of Ayodhya. At present Ayodhya is in Uttar Pradesh. Which is one of the famous tourist places today. Even today many proofs of his birth are found here. Now Ram Janmi Bhoomi dispute is going on here. Thousands of devotees come here everyday to have darshan of God.
Prayag

Prayag is the place where Rama, Lakshmana and Sita rested for the first time on their way to their kingdom for 14 years of exile. Presently this place is known as Allahabad and it is a part of Uttar Pradesh. This place has been mentioned in the holy Puranas, Ramayana and Mahabharata. Today the biggest Kumbh Mela of Hinduism takes place here.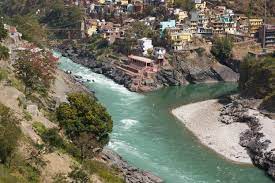 Chitrakoot

According to the Ramayana, Lord Rama spent almost 11 years of his fourteen years of exile in Chitrakoot. This is the same place where Bharat ji had come to meet Shri Ram who had left the forest. Then they informed Rama about the death of King Dasaratha and requested him to return home. Many footprints of Lord Rama and Sita are still present in Chitrakoot. Presently this place is situated between Madhya Pradesh and Uttar Pradesh today. There are many temples of Lord Rama here.

Jankarpur

Janakpur is the birth place of Mata Sita and it was here that the marriage of Lord Rama and Mata Sita took place. Even today in the city of Janakpur, one can visit the wedding hall and the wedding venue where Mata Sita and Ramji got married. People from villages around Janakpur bring vermilion from here on the occasion of marriage, which fills the demand of the bride. It is believed that this prolongs the life of the married woman. At present it is about 20 kilometers ahead of the Indo-Nepal border, in the southeast of Kathmandu, Nepal.
Rameshwaram

Rameshwaram is the place from where Hanumanji's army built the Ram Setu to reach Lankapati Ravana. Also, this is the place where Lord Rama worshiped Shiva for the return of Sita from Lanka. At present Rameswaram is in South India Tamil Nadu. Rameshwar today is a major pilgrim center in the country. This bridge is known as Ramsetu in India and Adam's Bridge (Adam's Bridge) in the world. The length of this bridge is about 30 miles (48 km). This structure separates the Gulf of Mannar and the Palk Strait from each other.
Kishkinda

In Valmiki Ramayana, Kishkinda has been described as the kingdom of monkey king Bali and then of Sugriva. Lord Ramchandra ji killed Bali and got Sugriva anointed by Lakshman in this city. One mile west of Kishkinda, there is a pool named Pampasar, on the banks of which Rama and Lakshmana stayed for some time. Presently it is believed to be in the vicinity of the city of Hampi in Karnataka. UNESCO has included this place in the World Heritage.
Dandikaranyash

It was here that Lord Rama rejected the love proposal of Ravana's sister Shurpanakha and Lakshmana cut off her nose and ears. It was only after this incident that the foundation of Ram and Ravana war was laid. Spread across Orissa, Andhra Pradesh and Chhattisgarh, this vast green region still bears traces of Rama's abode and one feels immense peace and presence of God upon coming here.
Talimannar

Talaimannar is the place where Lord Rama set up his camp for the first time after reaching Sri Lanka. After a long battle, Lord Rama killed Ravana and then gave the throne of Sri Lanka to Ravana's younger brother Vibhishana. It was here that the fire test of Mother Sita took place. It is here that the signs of joining Ramsetu coming from Rameshwaram are also found. This place is situated on the Mannar Island of Sri Lanka.