We celebrate Tulsi Pooja on Dwadashi Tithi which is a day after Prabodhini Ekadashi. Tulsi pooja or Tulsi Vivah is celebrated all over India in the Kartika month. Do you know this is also a mini Diwali that we all celebrate? Yes, it sure is. In this article, you will get a lot of information about the Tulsi Pooja so don't miss it till the end…
Story of Tulsi Pooja: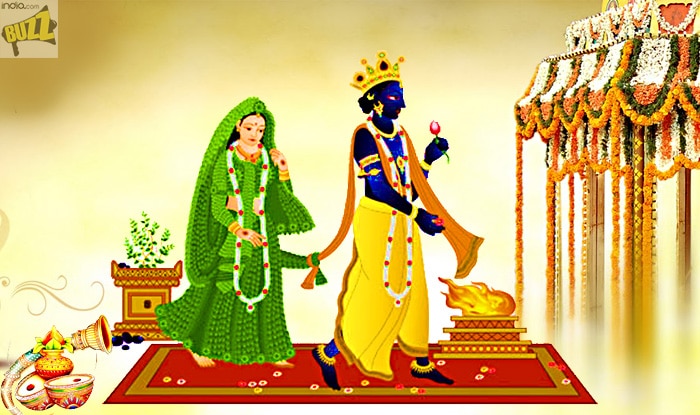 It is the day when Goddess Lakshmi in the form of Tulasi Devi marries Lord Vishnu. So, on this day people celebrate by performing the wedding of Tulasi Devi with Lord Vishnu.
Lord Vishnu remains in the Yogic Nidra (sleep) under the ocean for four months better known as Chaturmaasa (four months) hence,includes the months Shraavana, Bhadrapada, Ashwini, and Karthik. Chaturmaasa ends on the Tulsi pooja day and, this is when Lord Vishnu rises and on this day Vishnu in the form of Saligrama marries Tulsi.
As per Hindu tradition,days after Tulasi pooja are considered auspicious for weddings and other ceremonies.Tulsi pooja also relates back to Tulsi's previous birth story as Vrinda and Vishnu as Saligrama which was necessary for the destruction of the mighty demon Jalandhar by Lord Shiva.
Essence of Tulsi Pooja:
Though this is celebrated all over India, the celebrations are done differently in different parts of India. This festival is also a mini Deepawali, people especially children's spare some crackers from the main Deepawali festival to burst them on the Tulasi Pooja day.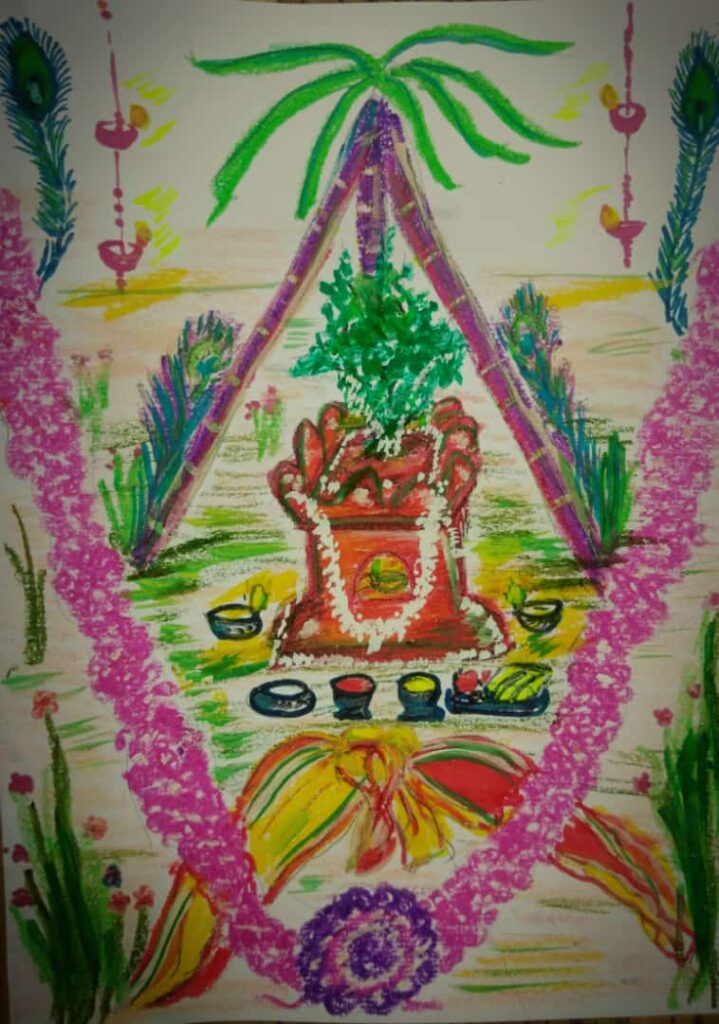 Amla Plant depicts Lord Vishnu, a small branch of Amla bearing the fruit is kept along with the Tulsi Plant and performs the marriage rituals.
Some people celebrate by dressing Tulsi and Saligrama(shaligrama) like bride and groom and perform wedding rituals.
Few celebrate the wedding of Tulsi with Lord Krishna who is the incarnation of Lord Vishnu.
Celebration of Tulsi Puja
The celebrations are observed differently in different regions, As this is Tulsi Vivah and generally the wedding rituals are performed
1. People having Tulasi Brindavan at home clean and some even paint newly with lime to beautify the Brindavan. People without Brindavan perform this pooja in the Tulasi pots also
2. Lamping of Diya around Tulasi and colorful Rangoli (Drawing with white and colored chalk powder) enhancing the festive spirits.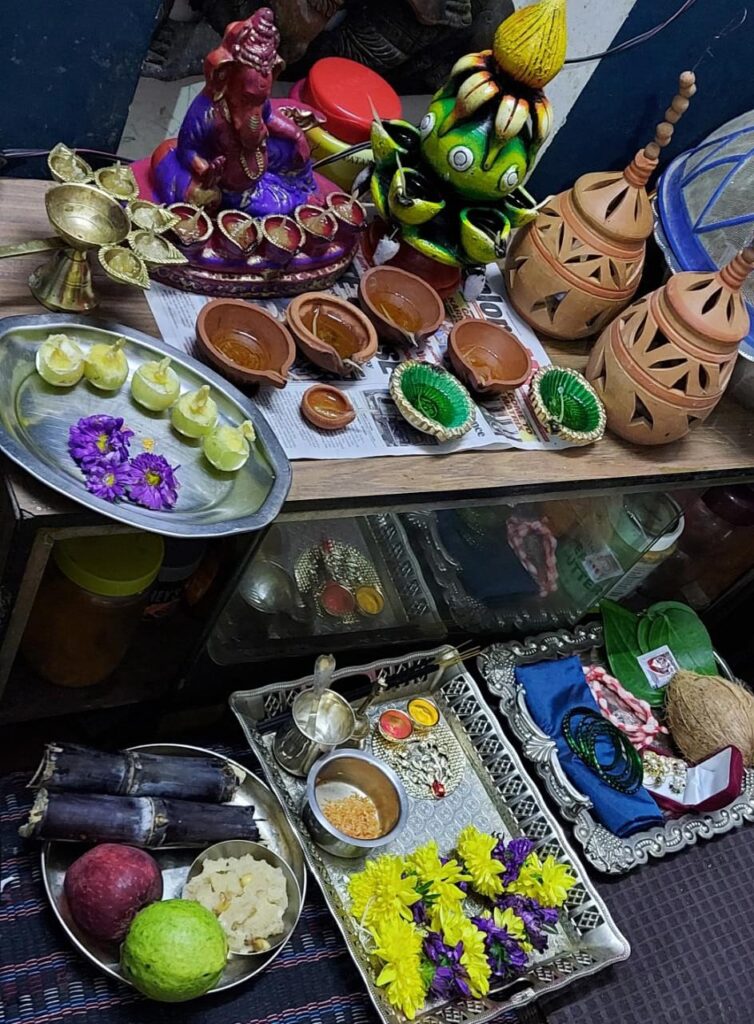 3 . Sugarcane is decorated over the Tulasi Brindavan, some decorate the Tulasi Brindavan by saree draping.
4. A Small Branch of the Amla plant bearing fruit is kept along with the Tulasi plant.
5. Haldi and Kumkum is applied to Tulsi Moreover, Turmeric sticks (Arishina Kombu) tied to the yellow thread is tied to Tulasi
6. Cotton vastramala (Gajje Vasthra) cotton with Kumkum garland is offered to Tulasi.
7. Flowers are offered
8. Ganesh Idol, Lakshmi Krishna or Vishnu Lakshmi idols, kept in Tulasi Brindavan. Besides, pooja performs beginning with Ganesh Vandana by offering fruits, beetle leaf and beetle, Dakshina(coins) , Naivedya (prasadam) coconut
9. Dhoopa, Deepa, karpoora (camphor)Aarthi, and akshata (rice mixed with Kumkum)
10. It is auspicious to sing Tulasi Ashtothara (shloka and chanting) or Lakshmi ashtothara, Krishna Ashtothara or Vishnu ashtothara.
11. A special lighting of Amla Diya Aarthi is performed during this pooja.
12. Inviting married women for pooja and offering them Kumkum and Prasadam is observed.