Jainism is considered to be the oldest religion in the world. These are the famous 10 Jain temples of India –
Shri Mahaveer Jain Temple

Shri Mahavir Jain Temple located in Rajasthan has a huge 29 feet high statue of 24th Tirthankara Shri Vardhaman Mahavir ji. It is said that this idol was built on the 2500th anniversary of Mahavir Ji.
Parshwanath Temple

This temple is in the Khajuraho of Madhya Pradesh. It was built in the 10th century. Although this Jain temple is dedicated to Adityanath ji, due to the installation of Lord Parshwanath's statue in the 19th century, people also call this temple Parshwanath temple. Parshwanath temple has been a unique example of Indian architecture.
Mirpur Jain Temple

The beauty of Mirpur Jain temple located in Mirpur of Sirohi district of Rajasthan is widely discussed. It is considered to be the oldest temple made of marble. It was built in the 9th century. This temple is 1100 years old. This temple is also dedicated to Lord Parshwanath. You can guess the beauty of this temple from the fact that it has also been mentioned in the World and Encyclopedia of Art.
Dharmnath Temple

This temple is in Cochin, Kerala. Lord Dharmanath is worshiped here. Lord Dharmanath was the 15th Jain Tirthankara. This is 100 years old temple. It is made of stone.
Shikhar Ji Temple

This is one of the most important temples of Jain society. People also know this temple by the name of Parasnath temple. It is situated on the Parasnath hills of Giridih district of Jharkhand. It is said that 20 Tirthankaras of Jainism and many saints attained salvation here. For this reason, this place has been considered a place of pilgrimage. This temple is spread over an area of 200 square kilometers and is situated on a mountain 4430 feet high.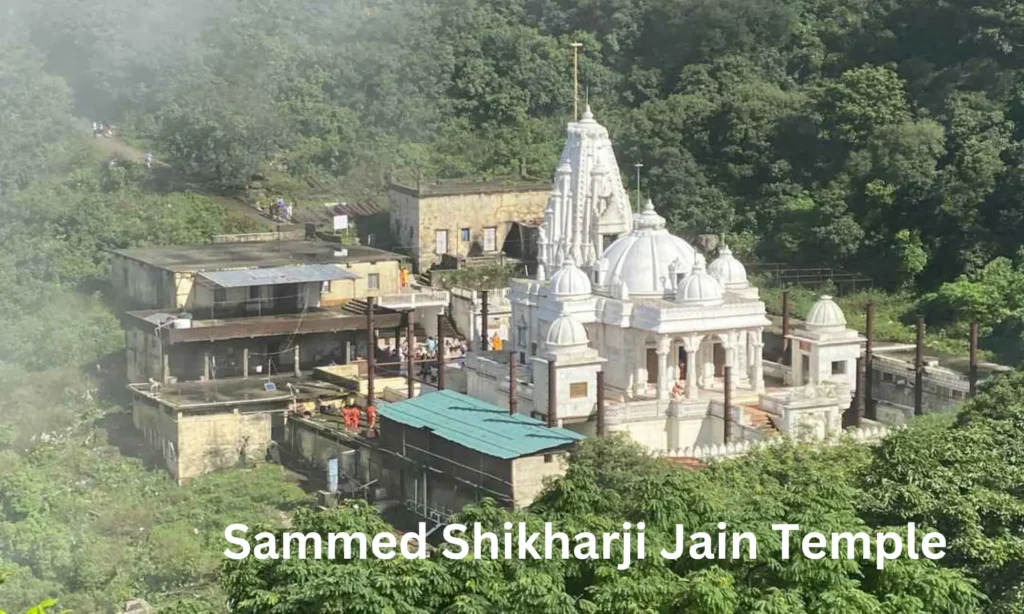 Songiri Temple

The Songiri temple situated between Gwalior and Jhansi is famous not only in the country but also in the whole world. Songiri Temple is also known as 'The Golden Peak'. Is. There are 77 small Jain temples on the hills near this temple. Songiri Temple is considered one of the primary pilgrimage centers for Jain followers. It is believed that this was the place where fifteen lakh followers together attained salvation. There is an 11 feet tall statue of Lord Chandraprabhu in this temple.
Ranakpur Jain Temple

Ranakpur Jain Temple, located in Rajasthan, is considered one of the five major pilgrimage centers of Jainism. The construction of this temple started in the 15th century during the reign of Rana Kumbha. This temple is known for being the largest and most important temple of the Jain sect, dedicated to Lord Adityanath.
Gomateshwar Bahubali Temple

Located on a hill named Indragiri in the Mysore district of Karnataka, this temple has a 56 feet high idol of Gomateshwara Bahubali. This statue made of a single stone is the tallest in the world. Beliefs also say that Bahubali was the son of Rishabhanatha, the first Tirthankara of Jainism. It is considered a holy place of the Jain community.
Ajitnath Temple

This Jain temple located in Gujarat was built in 1121 by King Kumarapala of Chalukya. Thousands of devotees come to this temple in the months of Kartik and Chaitra to have the darshan of God.
Nareli Jain Temple

The cost of building this temple in Ajmer, Jaipur was Rs 100 crores. It was made in the year 1994. People come from far and wide to see it.