It would not be wrong to say that Buddhism is one of the most loved religions in the world. Which was founded by Lord Gautam Buddha. Lord Gautam Buddha attained enlightenment at Bodh Gaya and delivered his first sermon at Sarnath, Varanasi. After this Buddhism became the most popular. Buddha's wonderful teachings promoting non-violence, truth, and dispassion became global. There are many wonderful temples dedicated to Buddha around the world. Let us know which are the some main and famous Buddhist temples in India.
Mahabodhi Temple, Bihar

The Mahabodhi Temple at Bodh Gaya in Bihar is one of the holiest pilgrimage sites for Buddhists. This is the place where Lord Buddha attained enlightenment while sitting under an ancient Bodhi tree. The tree is still inside the main temple. This temple was built by King Ashoka. There is also a grand statue of Buddha made of yellow sandstone here.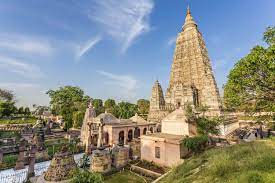 Sarnath Temple, Varanasi

Sarnath Temple does not need any introduction. One of the Buddhist pilgrimage sites, Sarnath is the place where Buddha delivered his first sermon to his disciples. This temple located in Varanasi was built by King Ashoka. Some of the major places to visit here include Chaukhandi Stupa, Mulgandha Kuti Vihar, Dhamek Stupa, and Dharmarajika Stupa.
The Wat Thai Temple, Kushinagar

This temple is nothing less than a treasure for those who want peace place to practice meditation amidst nature. This beautiful temple has a prayer hall where one can meditate and pray peacefully. The spiritual aura of this place is its specialty. You will see a mix of Buddhist and Thai architecture here.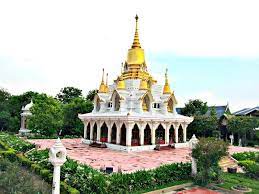 Red Maitreya Temple, Leh

This temple is established in one of the most spectacular Indian places. Right in the middle of sky-high mountains and soothing landscapes. This shrine is a part of the Thiksey Monastery and is famous for the 49 feet high statue of Lord Buddha. Pilgrims and travelers from all over the world come here for the beauty and spiritual importance of this place.
Mahaparinirvan Temple, Kushinagar

The Mahaparinirvana Temple at Kushinagar in Uttar Pradesh is another sacred pilgrimage site dedicated to Buddha. The temple is popular among locals and foreigners alike because of its beautiful architecture and superb work in red sandstone. Swami Haribala, one of the great followers of Buddha, got this temple constructed here.
Golden Pagoda Temple, Arunachal Pradesh

Located in the foothills of the Himalayas, the Golden Pagoda Temple, or Kongmu Kham is spread over an area of 20 hectares in the Namsai district of Arunachal Pradesh. The main attraction of the temple is its 12 domes, which were built recently in 2010. A beautiful example of Burmese architecture.
Theravada Buddhist Temple, Itanagar

This is one of the most famous Buddhist temples in Northeast India. This place is full of devotees and meditation lovers. The temple is surrounded by natural beauty. making it a great place to meditate and pray.