By the word haunted itself, we all will think it is a place where we see ghosts or occupied by the dead, who were either killed or those who committed suicide. Many of us view and imagine them in that way. Sometimes, when we pass by the roads and see a house that is fully abandoned, looking old, broken, and not touched by people over the years, we assume that they are haunted and think that ghosts exist here and once we enter we see spirits and all, like how we get to see them in movies.
So other than imagining them, there are haunted places in and around the world, which some of you may or may not know. We provide you few common lists of haunted houses that are present even today around the world.
Some Most Haunted Places in the World
Kuldhara Rajasthan, India
Kuldhara is situated in Rajasthan, India. Here it is not safe to visit when you are alone. You have to either come with one or two people along with you or in a group. So that you will have helping hands and other ideas of being protected or can die or get lost with someone. This is a village that was kept aloof during the 1800s and is believed to be deadly.
During that time, One ruler by the name of Salim Singh fell in love with a villager's daughter and wanted to marry her. As there were objections to his approval of getting married to her, he had threatened them. When he was caught by the villagers to get rid of him in the village and not to see her, Salim had cursed the place with his magic and made the place for no one to visit this place. As once visited, they are not bound to go back alive. Before you visit this place, think if you want to get your life off or if your life is more important.
Poveglia Island, Italy
We know that Venice, Italy is a popular tourist destination, which every people love to visit and feel the atmosphere and the beautiful sight-seeing. In between Venice and Lido, there is a place that is fully abandoned, where when once visited will give you a fearing experience and will never think of coming back for a visit to this place ever even when you think of visiting Venice, any other time.
This place was earlier used for people into quarantine when they were affected by a virus by the name Bubonic Plague, that can be spread from one person to another. This plague was during the 20th century, but it was taken for as a mental asylum during the early 20s. This abandoned place was being shot in many paranormal movies and shows. They are now not open to the public but can be shown around only with the help of tour operators.
Alcatraz Island, United States of America
There would be no one in this world who love to visit America because of its colorful Victorian Houses, amazing cable cars, and the iconic Golden Gate Bridge. This place was for the criminals that were kept here during the ages. The people are allowed to visit here only with the help of the guided tour and also one can learn about who the prisoners were and what they did to come in here. Only those persons who are brave enough to withstand whatever comes by, are allowed to visit here after the dark enters. Here only night tours are applicable. Sometimes you will get a chance to hear the echo sound of Al Capone's Banjo through his cells.
Island of Dolls, Mexico
Everyone must have watched the movie 'Annabelle', the famous doll that is very scary and does things that are scary for killing people. Mexico, which is known as the largest city in the world, will be a great experience for those visiting Mexico. When you enter the Island of Dolls, you will be experiencing the Halloween effect here. You will have to see the dolls that are being hung at trees when you pass by, as they are the ones known to be in many paranormal movies. This area is being prohibited by tourists, as it can be dangerous to many.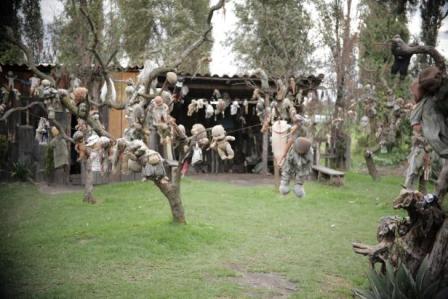 Taj Mahal, Mumbai, India
Most of you must have visited this place and also have learned that this was built by Shahjahan for his beautiful princess Mumtaz. But we have never heard of this place being haunted. It was said by someone that once one hotel's architect by name W. A. Chambers committed suicide by jumping from the hotel's balcony on the fifth floor. He did so as he found that the construction plan and design had completely gone wrong when he went for a small holiday. It is said that the hotel that is near to the Taj Mahal, his ghosts wanders there by the halls and the Old Wings of the hotel.
Hoi- Baciu Forest, Romania
The view of this place itself is scary. The branches of the tree and its leaves themselves will give you a feel of being in a scary movie. The name of this has no relation to the one that is in the animated movie, Hotel Transylvania. Some of the local legends say that spirits and ghosts wander around the trees, and flocks of sheep sometimes appear and vanish among the woods. If you want to visit, you should go on within the woods without much fear and should have the strength to see and walk through when you see them in front of you.
Jazirat Al Hamra, United Arab Emirates
This is a deserted village that is placed between a huge mall and water park, at Ras Al Khaimah, which is the north of the United Arab Emirates. This village was built during the 14th century and was common for fishing during the 1830s. when you go there for visit now, you will only find dirt roads, 13 mosques, and around 250 to 300 coral cum mud houses. At times you will also be lucky to experience certain spirits, their awful noises, and certain genies that appear in the form of animals. To see the whole place you should be brave enough to visit alone or have to come in a group.
These are some of the haunted places around the world where some of you must have not heard of or not expected it would be named as haunted or people called them as haunted and have experienced spirits and ghosts. If you are eager to visit haunted places, you just have to be brave enough to go there or take a group with you who are fearless. If you want to see a ghost and experience it, then get the courage to visit them at one point in your life.