HISTORY BEHIND RAMESHWARAM TEMPLE
Structure Of The Temple
Rameshwaram is a holy pilgrimage for Hindus. This temple is located in the Ramnath district of Tamil Nadu. Apart from this, the Jyotirlinga found here is considered to be one of the 12 Jyotirlingas. The belief is that Kashi is in the north of India, and the belief is of Rameshwaram is in the south. Rameswaram is located about 400 miles south of Chennai. If seen from above, it is a beautiful conch-shaped island surrounded by the Indian Ocean and the Bay of Bengal. This island was connected with the mainland of India, but later ocean waves cut the link connecting it, making it an island surrounded by water from all sides.
Ram Setu Bridge
Here Lord Rama had built a stone bridge before climbing Lanka, on which the monkey army reached Lanka and conquered it. But later at the request of Vibhishana, Rama broke this bridge at a place called Koti.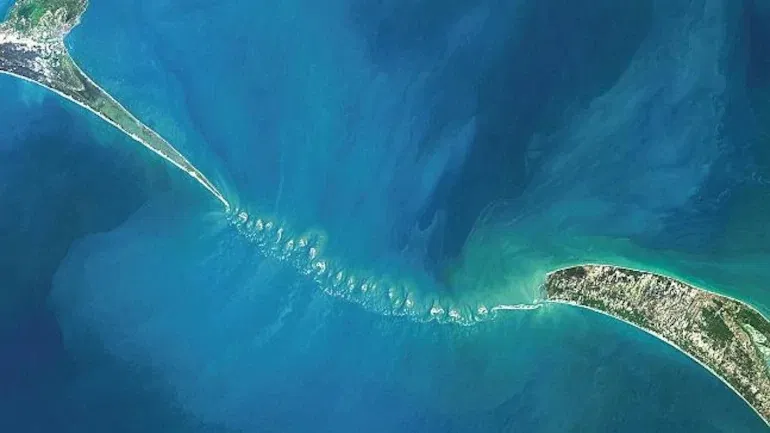 Even today the remains of this 30-mile bridge are visible in the ocean. This temple of Rameshwaram is a wonderful specimen of craftsmanship and construction. If you look at its entrance, it is 40 feet high. There are three Prakaras to revolve around the idol of Ram Nath, the third one was completed 100 years ago. The height of this type is more than 400 feet. In the Temple, There is a platform 5 feet high and about 8 feet wide on both sides of it. There are long rows of pillars of another stone on the platforms. There are hundreds of pillars built inside the temple, which look alike, but when you look closer, you will come to know that the pillars on each pillar have different workmanship.
Seeing these amazing pillars, tourists from abroad are stunned. The third type of corridor here is the longest corridor in the world.
Specialty Of The Rameshwaram Temple
The most important thing about the temple of Ram Nath is that there is no mountain anywhere in and around this temple from where the stone can be brought easily. The mountain named Gandhamadan present here is just a name. It's actually a mound. Stones cannot be taken out for a huge temple in it. It is believed that there are millions of tons of stones in the Rameshwaram temple. They have all been brought from far and wide. An old black stone is kept in the building of Ramnath. It is said that this stone was given by Ram Ji to Kewat Raj as a symbol at the time of Raj Tilak. People visiting Rameshwaram go to Ramanathapuram to see this black stone. Ramanathapuram is about 33 miles from Rameshwar.
Story Of Establishment Of The Rameshwaram Temple
When Rama was returning to Ayodhya after slaying Ravana and conquering Lanka, he took his first rest by stopping on the Gandhamadana mountain across the ocean. Sita and all the other Ganas were also with him. When the great sages came to know about this, they reached there to meet them and Ram Ji told the sage Muni that he had committed the sin of killing Brahman. Ram Ji asked what will he have to do to get rid of this sin. Then the sages after discussing among themselves told Ram Ji that by establishing a Shivling here and worshiping it according to the scriptures. After this Ram Ji orders Mahavir Hanuman Ji to bring a Shivling from Mount Kailash.
Hanuman Ji Got Shivling From Shiva
Hanuman Ji soon leaves for Mount Kailash and after reaching there he sees that Lord Shiva is not visible anywhere. Then Hanuman Ji meditates on Lord Shiva. Lord Shiva pleased with his penance gives him darshan and gave him Shivling. After this Hanuman Ji returns to the Gandhamadana mountain after receiving the Shivling from Shiva. But a lot of time had passed in this whole process and the time of Muhurta was also passing. Because of this, all the sages request Lord Rama to establish Shivling.
Mata Sita Made Shivling
After considering it, Mother Sita made a linga of sand and established it methodically. When Mahavir Hanuman Ji saw that the linga had been established, he felt a lot of trouble and fell at the feet of Shri Ram Ji. Shri Ram Ji, while turning his hand on Hanuman Ji's back, explained the reason for establishing the linga. But even when Hanuman Ji was not satisfied, Ramji said that you should uproot the Shivling established by me, and I will install the Shivling brought by you in its place.
On hearing this, Hanuman ji pounced on the Shivling, but even after applying all his strength, he could not move the Shivling and fell far away and became unconscious. When he regained consciousness after a long time, he had a darshan of the Supreme Brahman form of Ram ji. Then Ram ji says that you have suffered so much because of your mistake. No power in the world can shake the Shivling established by me. Ram ji places the Shivling brought by Hanuman ji next to the Shivling established by him. Which makes Hanuman ji happy.
Hanumadishwar Shivling
Ramji named the Shivling of Hanuman Ji as Hanumadishwar Shivling. It is believed that this temple was under the care of a monk in a small thatched hut. After this, all the philosophy was structured. King Parakram Bahu of Sri Lanka built this temple in the 12th century.