Lord Shri Krishna is called 'Sarvadaman', that is, he can destroy everything at his will and no one can stop him. Lord Shri Krishna is also called 'Karunasagar', that is, he saves all his devotees. He killed many demons in his birth. Below is the list of the names of the demons killed by Shri Krishna:
Putna
She had poison in her body. Putna was Tadka in Treta Yuga, which was killed by Lord Shri Ram. She is considered an impure demon. That's why she was named Putna. Putana was a demoness, who was killed by the infant Lord Krishna. Putana disguises herself as a young and beautiful woman and tries to kill Lord Shri Krishna by making him drink poisoned (stone-laden) milk. But our great Lord Shri Krishna sucks her milk as well as her life through her breasts. Lord Shri Krishna was a 7-day-old baby when Putana tried to kill Lord Shri Krishna.
Shaktasur
The demon who came in the form of a cart (bullock cart). Although Lord Krishna's mother Yashoda Devi was engaged in welcoming the guests, Lord Krishna wanted to attract her (Yashoda's) attention by killing the demon Shaktasur. And thus, Lord Shri Krishna kicked that cart-shaped demon. The demon Shaktasur was a ghost demon who had taken shelter in a cart and was looking for an opportunity to harm Lord Shri Krishna. But who can harm our Lord Shri Krishna and thus Lord Shri Krishna kicked the demon off the cart with his small and very delicate feet. The demon in ghost form was immediately thrown to the earth and his cart was destroyed and he died instantly. Lord Shri Krishna was 4 months old when he killed a demon named Shaktasur.
Trinavarta
He was a Cyclone / Prachandamarut (tornado) demon. When Lord Shri Krishna was being taken to the sky, Lord Shri Krishna held Trinavarta's neck tightly and Lord Shri Krishna overpowered his weight. Trinavarta was made to feel very heavy by Lord Shri Krishna, due to which the demon fainted and hit a rock which instantly killed Trinavarta. According to Srimad Bhagavatam (Vishnu Purana), it was Lord Sri Krishna who took the demon Trinavarta to the sky, not Trinavarta Lord Sri Krishna.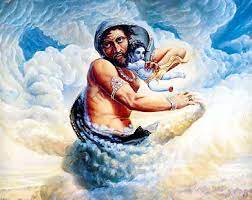 Vatsasur
He comes in the form of a small calf. But Lord Shri Krishna easily recognizes this calf-like demon Vatsasur and kills him with great ease. The demon Vatsasur takes the form of a small cattle to mix with Lord Shri Krishna's herd of cows. But this was realized by Lord Shri Krishna, who immediately caught hold of the calf's hind legs and threw it on a tree, killing the demon Vatsasur.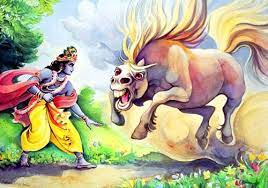 Bakasur
Big bird that floats. Bakasura was a very bad friend of King Kansa and brother of Putna and Aghasur. Bakasura comes in the form of a giant stork to kill Lord Shri Krishna. He was killed by Lord Krishna when the little boy (Lord Shri Krishna) pushed Bakasura's beak until it broke like a twig.
Aghasura
A huge snake demon. Aghasura was the elder brother of the demon Putna and the demon Bakasura. In the Divya Srimad Bhagavatam, it is said that Aghasura assumed the form of a huge snake. The cowherd boys, companions of Lord Shri Krishna, enter its mouth mistaking it for a mountain cave. Due to this Lord Shri Krishna came to his rescue and killed Aghasura.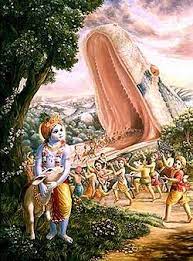 Arishtasura
A bull demon. The demon Arishtasura tore the earth with his hooves and made it tremble. The Supreme Lord Shri Krishna caught Arishtasura by the horns and threw him eighteen steps back, as an elephant might do while fighting a rival elephant. As the demon Arishtasura attacked, Lord Shri Krishna caught him by the horns and slammed him on the ground with his foot. Later, Lord Shri Krishna thrashed Arishtasura like a wet cloth. And finally, Lord Shri Krishna took out one of the horns of the demon and hit it till it prostrated and finally died.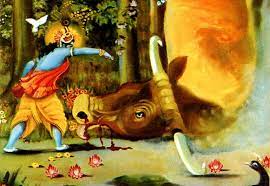 Dhenukasura
A demon in the form of a donkey. Once, Sri Balarama, Lord Sri Krishna was roaming in a forest, when he was captivated by the fragrance of the fruit of a palm tree. Lord Sri Krishna then commented on the possible sweet taste of the fruit, only then Sri Balarama shook the trees and the fruits fell to the ground. A jealous demon Dhenukasura came running to Sri Balarama's door, bit Sri Balarama, and kicked his legs. Sri Balarama caught hold of Dhenukasura's legs and swung him towards a tree, shattering his chest, neck, and back and the tree fell with the demon. Sri Balarama easily killed the demonic servants of Dhenukasura and opened the forest for his friends and finally killed Dhenukasura as well.
Kalia
Kalia though was not a demon, but this huge snake was causing big problems to the local people. Kaliya Sarpa was a venomous naga (snake) living in the river Yamuna in Vrindavan. The water of Yamuna was boiling due to the poison of this Kaliya snake. No bird or animal could go near this river of Yamuna and only a single Kadamba tree grew on the bank of the river. Thus this serpent Kalia was shown the way by Lord Shri Krishna to another distant place. The festival of Naag Nathaiya (serpent dance) is associated with the story of Lord Krishna dancing and taming the Kalia snake.
Vatsura
One of the most important forests of Vrindavan is celebrated as the forest of Braj. Here Lord Shri Krishna used to enjoy lunch with his friends under the huge Bhandiravana banyan tree. Lord Shri Krishna performed many pastimes in Bhandiravana such as rescuing the gopas and calves from a huge forest fire and killing the demon Vatsura. In Bhandiravana, the slaying of the demon Pralambasura by Sri Balarama is also celebrated.
Pralambasura
This asura (demon) was killed by Shri Balarama. But we should always remember that Lord Shri Krishna is the 'Supreme' / 'Supreme'. Sri Krishna, being the Antaryami (abiding within all) of Sri Balarama, kills this asura through Sri Balarama.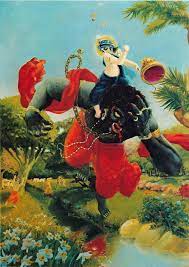 Keshi Asura
It was a horse demon. Lord Shri Krishna was named Lord Shri Keshav after killing this demon. Lord Shri Hari is also known as Lord Shri Keshava because he has long and golden hair.
Vyomasura
This asura (demon) was a bat demon. A powerful sorcerer named Vyomasura, the son of Mayasura, appeared on the scene in the guise of a cowherd boy. Pretending to join the game as a thief, Vyomasura proceeded to steal most of the cowherd boys acting as sheep. Just as a lion captures a wolf, Lord Sri Krishna The demon caught Vyomasura as he was carrying more cowherd boys. Lord Sri Achyuta (Lord Sri Krishna) caught Vyomasura between his arms and threw him on the ground. Then, when the gods in heaven looked on, Lord Sri Krishna killed Vyomasura in the same way as one kills a sacrificial animal.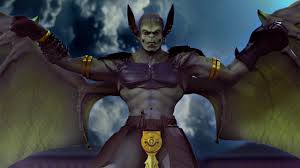 Kuvalayapida
The elephant demon killed by Sri Krishna when Sri Krishna entered Mathura.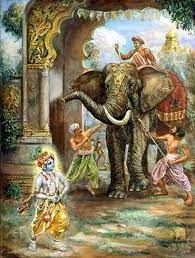 Kansa
Maternal uncle of Lord Shri Krishna. He was the King of all the demons sent to kill Krishna.
Kalayavan
He was killed by fire by Muchukunda Maharaja. This fire emanates from the eyes of the same Maharaj Muchukund and reduces Kalayavan to ashes. This Kalayavan comes from present-day Yemen country.
Bhaumasura (Narakasura)
He was the one who abducted 16,100 women. He was killed by Shri Krishna and for this reason, we celebrate Diwali day which is called 'Naraka Chaturdashi'. In earlier lives, all these 16,100 were the children of Lord Agni Dev and had the divine ambition to marry Lord Shri Vishnu. And thus, Lord Vishnu has given a boon to marry all these 16,100 divine women. In all, Lord Krishna marries 16,108 divine goddesses.
Banasura (Banasur)
He had 1000 hands. Shri Krishna cut off all his hands except the last two. He was not killed by Shri Krishna because he came from the family of the great Shri Prahlad Maharaj and Shri Bali Maharaj (Mahabali). Earlier, Lord Shri Vishnu had promised Shri Prahlad Maharaj that he would not kill any member of his family.
Poundrak
Although he was not a demon, he had an impure mind. He started believing himself to be Shri Krishna and thus he was shown his way by the real Shri Krishna. He was one of the stupidest men on earth.
Dwivida
He was the gorilla demon and was killed through Sri Balarama.
Jarasandha
He was killed through Shri Bhima.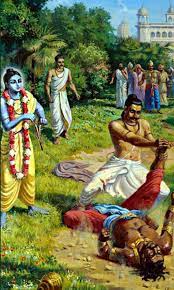 Shishupala
His neck was beheaded by Shri Krishna through Shri Sudarshan Chakra. He was in the form of Hiranyakashyap and Ravana in previous births.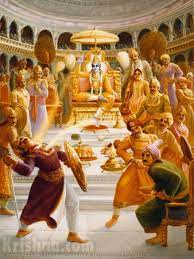 Shalva
He was though not a demon but was killed.
Dantavakra
He was in the form of Hiranyaksha and Kumbhakarna in his earlier life.
Romaharshan
He was killed through Shri Balarama.
Balwala
He was killed through Shri Balarama.
Chanur and Mustik
They were the bodyguards of Kansa and was killed by Shri Krishna and Balaram in Malyudha.