Benefits of wearing Rudraksha
We all know Rudraksha is good to wear. But do you know what is Rudraksha or where does it come from? In Sanskrit, Rudraksha means teardrops of Lord Shiva. Teardrops from Lord Shiva's eyes when trickled out of joy and fell on Earth became seeds and grew as Rudraksha trees.
Thus, Rudraksha is considered so holy. There are many benefits of wearing Rudraksha.
Where does Rudraksha grow?
Rudraksha trees are found mostly at high altitudes in mountains, especially in the Himalayan range. Rudraksha is obtained from Nepal, Burma, and Indonesia. Though it is also available in some parts of the western ghats in South India. But, the best quality is available only in the Himalayas as the soil, water, air and everything around are cordial for the growth of Rudraksha.
Rudraksha seeds protect the wearers from negative energies, cleanse the negative aura, and brings happiness, success, and prosperity to their life.
Also Read: Which Rudraksha you should wear?
Different Mukhi or facets of Rudraksha
Rudraksha has a unique vibration and comes in 1 to 21 Mukhi or faces. Each Mukhi or face has its resonance, significance, and benefits. Among these 21 Mukhis, 1-14 Mukhis are easily found. Others are rare to find.
Benefits of Rudraksha's different Mukhis or faces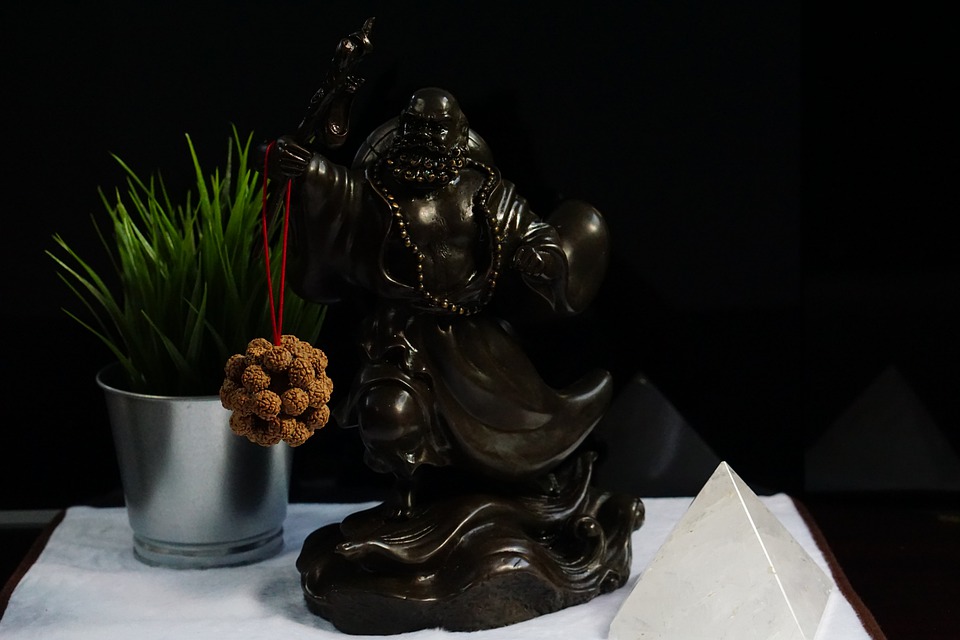 1. Benefits of One Mukhi Rudraksha
It is ruled by Lord Shiva. It has the power to destroy all sins and lead the way to salvation. One Mukhi Rudraksha also helps to gain absolute consciousness of the divine. Moreover, this type of Rudraksha helps to cure migraine and other mental diseases.
2. Two Mukhi Rudraksha
It represents the combined form of Lord Shiva and Goddess Shakti. Two Mukhi Rudraksha harmonizes the relationship between two people (husband-wife, friends and father-son, etc ). It fills the void space with positive energy, makes people kind and considerate. This type of Rudraksha also cures muscle ache, infertility, and kidney-related disorders.
3. Teen Mukhi Rudraksha
It represents the Holy Trinity of Lord Shiva, Vishnu, and Brahma. This type of Rudraksha helps to overcome stress. It provides energy to the wearer too. Teen Mukhi Rudraksha is helpful for those who experience self-hatred or exhaustion.
4. Four Mukhi Rudraksha
It represents the epitome of knowledge i.e. Lord Brahma and Goddess Saraswati. It also improves one's memory and enhances logical thinking.
5. Five Mukhi Rudraksha
A five Mukhi Rudraksha represents the God 'Kalagni' which is another form of Lord Shiva. It emits negative vibes from the wearer's life and destroys the 'Bad Karma'. This type of Rudraksha thus helps one to live their life happily and peacefully.
6. Six Mukhi Rudraksha
It represents the power of the son of Lord Shiva, Kartikeya. It also helps to control emotions, anxiety, jealousy, fear, etc. Six Mukhi Rudraksha helps one to overcome challenges, fear and increases willpower.
7. Seven Mukhi Rudraksha
The ruling Goddess of this Rudraksha is Goddess Lakshmi. The wearer is blessed with good wealth and happiness. It is also related to seven sages (Saptarshi) and they bless the wearer with good health too.
8. Eight Mukhi Rudraksha
Lord Ganesha is the ruling deity of this Rudraksha. As He is the 'Vighnaharta' he removes all obstacles from the wearer's life and helps them to achieve success.
9. Nine Mukhi Rudraksha:
Nine incarnations of Goddess Durga are believed to reside in this Rudraksha. This is blessed by Lord Kaal Bhairav and Yamraj. So, the wearers overcome the fear of death. Their mind gets strong to face difficult circumstances.
10. Ten Mukhi Rudraksha
This Rudraksha represents Lord Vishnu. He blesses the wearer. Hence, this Rudraksha protects from black magic, evil eye, etc.
11. Eleven Mukhi Rudraksha: Lord Shiva and his other forms are the ruling Gods for this Rudraksha. It protects the wearer from any adverse situations.
12. Twelve Mukhi Rudraksha: It is popular among all types of Rudraksha. As it symbolizes Lord Aditya( the Sun God) it bestows leadership qualities. Thus, it is good to wear for businesses persons, administrators, and politicians.
13. Thirteen Mukhi Rudraksha: It represents Lord Indra and Kamdev. It helps to build one's personality and increases wealth.
14. Fourteen Mukhi Rudraksha: It is known as a divine gem. It is believed to have come from the eyes of Lord Shiva directly.
This Rudraksha thus protects from negative energies. It builds concentration and focus.
15. Fifteen Mukhi Rudraksha: This type of Rudraksha is effective in curing chronic illnesses.
16. Sixteen Mukhi Rudraksha: This type of Rudraksha is a combination of Lord Vishnu and Shiva. It protects one from the problems with sun signs. It also emits fears from one's mind.
17. Seventeen Mukhi Rudraksha: It epitomizes Lord Krishna and is known for removing a lazy attitude in a person. It enhances memory and intelligence.
18. Eighteen Mukhi Rudraksha: It is symbolic of Lord Bhairav and Goddess Earth. This Rudraksha helps one to achieve success in their careers. It shows the path to a healthy life.
19. Nineteen Mukhi Rudraksha: It signifies the sacred bond between Lord Shiva and Goddess Parvati. It increases patience and tolerance. This type of Rudraksha activates all the seven chakras in the body.
20. Twenty Mukhi Rudraksha: This Rudraksha provides ultimate Moksha because it represents Lord Vishnu. One can fulfill their wishes and desires wearing this Rudraksha.
21. Twenty Mukhi Rudraksha: This Rudraksha is a rare type of Rudraksha because It represents Lord Kuber. Those who wear this Rudraksha attain wealth and prosperity.
These are the benefits of wearing Rudraksha. Thus, people wear Rudraksha for general well-being, happiness, prosperity. Many people also wear to calm their minds and fulfill their desires.