Norse/ Nordic / Germanic or Scandinavian mythology is the body of myths belonging to the North Germanic peoples, stemming from Old Norse religion and continuing after the Christianization of Scandinavia, and into the Nordic folklore of the modern period.
Thor
No Norse god is more well known than Thor, and I agree that he is the best. He is the god of thunder, lightning, and battle, and has the specific role of protecting mankind, making him far more altruistic than most other gods. He has a fiery temper, and the red hair and beard to match. His greatest weapon is Mjolnir, a great hammer crafted by dwarves. The hammer is so heavy and powerful that Thor needs to wear enchanted gloves and a belt. Thor also has a chariot pulled by two magical goats, who themselves can grow back after being killed and eaten.
Odin
Odin, or Wotan is the all-father, the ruler of the Aesir. He is a god of knowledge and wisdom, and also of war. In many cultures, anyone killed in battle was considered a sacrifice to Odin. He was willing and got his knowledge. Odin has since been known by his alter ego of the One-Eyed Wanderer, wielding a large walking staff.
Eostre

Eostre is probably the least well-known deity on this list, though she did get a significant role in Neil Gaiman's American Gods. She is the goddess of spring and you can guess which holiday is named after her. There are some theories that Eostre is a Christian invention of Saint Bede, and that she is a representative of various dawn and spring goddesses. Eostre is associated with hares.
Njord

Njord is a god of the sea, which naturally made him an important deity among the seafaring Vikings. The only significant myth about Njord is his marriage to the giantess Skadi. She chose the one with the finest feet, believing they must belong the handsome Baldur, but it turned out she had chosen Njord. Likewise, Skadi couldn't stand Njord's seaside home on the beach.
Hel

Hel is the daughter of a bizarre affair between Loki and a giantess. Her upper body is healthy, but below her waist it is shriveled rotted. He face is half-beautiful and half-ugly. Hel has a great hound guarding her realm named Garm. Nilflheim itself is sometimes called Hel, leading many to believe that the goddess is merely a personification of a place, much like how Hades is used to describe the afterlife in the Bible.
Freyr

A Vanir, Freyr is the son of sea god Njord and brother of Freyja , a love and fertility goddess who giants and monsters are constantly trying to force into marriage. Freyr and Freyja are both beautiful gods, and both oversee fertility, as well as aspects of sexuality. Freyr himself is the god of male virility and good weather. He also owns a shining boar named Gullinbursti, who was literally fashioned by the dwarves using pig skin.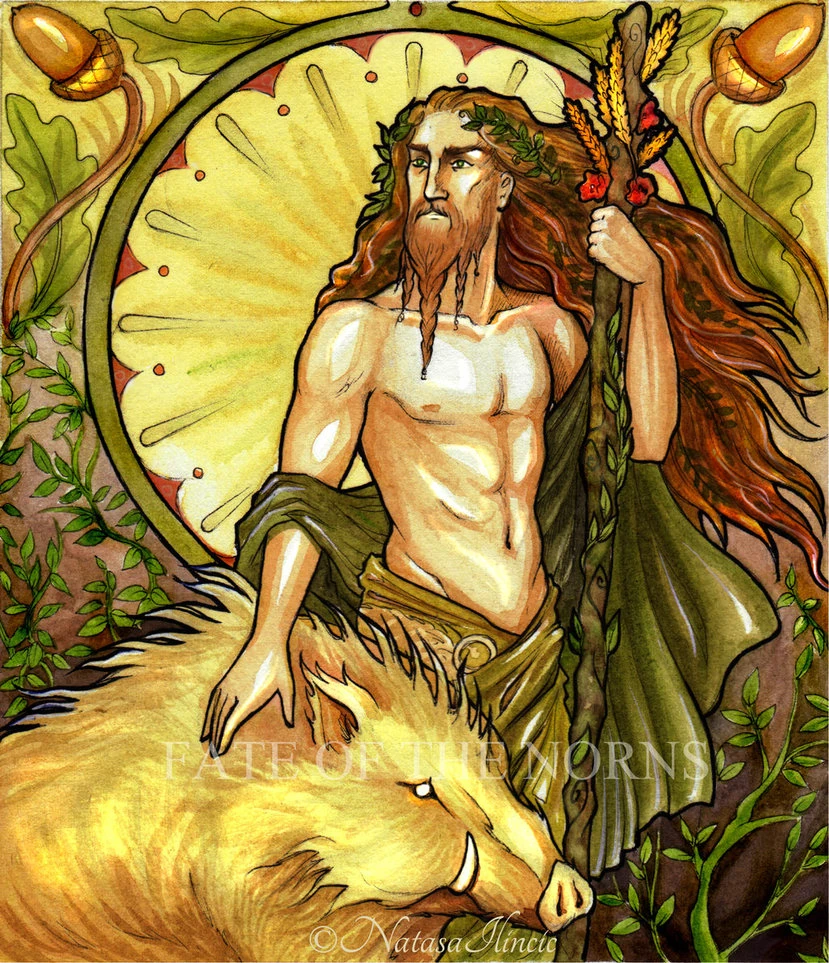 Heimdall

Heimdall is the watchman of the gods, standing guard over Bifrost, the rainbow bridge that leads to Asgard. He is the son of nine mothers, however that's supposed to work. Heimdall does not preside over any human affairs, but is nevertheless very important to the gods. He is equipped with Gjallarhorn, a loud horn which he sounds whenever Asgard is in danger.
Surtr
Surtr is a giant associated with fire, thanks to the large flaming sword he owns. He resides in the realm of Muspelheim, the land of fire. Current people think of his Marvel comics version, which is a giant, horned fire demon, but more traditionally he is portrayed as just a giant with an affinity for fire.
Tyr
One of the chief war gods among the Norse and Germanic peoples was Tyr. Tyr was very popular, and was even in a way worshipped by the Romans, who equated him with Mars, one of their primary gods. Tyr's parentage varies from source to source. He is either the son of a giant or Odin himself.
Loki
Loki is the most complex character in Norse mythology. A trickster figure, he plays pranks on the gods, but just as often uses his wits to aid them. His trickery eventually morphs into full-fledged villainy. Loki is the son of the giant Laufey, but for some reason was accepted among the gods of Asgard.