Rakshabandhan is a major festival of India, it is celebrated on the full moon of the month of Shravan, it is also known as Nariyali Purnima. On the day of Raksha Bandhan, the worship of Lord Shiva is completed and on this day a Shivling is built in India's famous pilgrimage Amarnath for one day. On this day, pilgrims make a difficult journey to visit Lord Shiva Shankar also.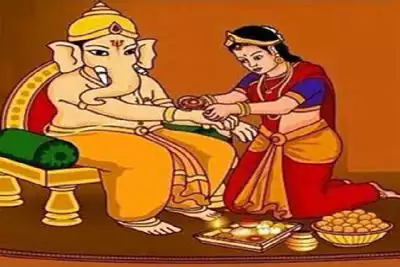 Festival of Brother and sister
The festival of Rakshabandhan or Rakhi binds brothers and sisters in the bond of affection. On this day sister ties Rakhi to her brother and wishes him a good life, brother promises to protect his sister. Both main doors of the house are painted with picture of Shravan Kumar and worship them with Kheer. On this day, Rakhi is tied to God, Brothers and family members, also to important things like vehicles and pets. There are many different beliefs in Indian myths and stories related to Rakhi.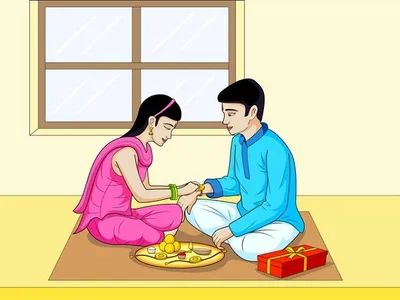 Lakshmi ji started Rakhi
When Lord Vamana came to King Bali, the Lord had asked for three feet of land from King Bali. God measured the entire earth and sky in just two steps, then King Bali understood that God was testing him, and he asked to keep the third step on his head. After this, the Lord asked King Bali to ask for something.
King Bali sought a boon from Lord Vishnu that you would stay with him as a watchman for four months in Patal Lok. Since then Lord Vishnu left Lakshmi Mata ji in heaven and started guarding King Bali for four months in a year and started living as a watchman.
On the day of Rakshabandhan, Shri Lakshmi ji came from heaven with a sparkling rakhi. Lakshmi ji made Raja Bali her brother and tied rakhi as well as tied rakhi to her nephews and sister-in-law. When the queen brought a diamond and pearl plate, Shri Lakshmi ji said sister-in-law, there are many diamonds and pearls in the house too, so I have come here to free my husband that is Lord Vishnu ji. In this way, Shri Lakshmi ji became the sister of King Bali and took Lord Vishnu with her.
Lord Krishna and Draupadi
Once Lord Shri Krishna got hurt in his hand and blood started flowing from his hand. When Draupadi saw it, she immediately tore the cloth from her Chundari and bandaged it. Then Shri Krishna became indebted to this bond and when Dushasan was trying to rip off Draupadi, then Shri Krishna protected Draupadi and saved her shame. It is said that the day when Draupadi tied a cloth around Lord Krishna's wrist with her pallu, that day was Shravan Purnima, since then the festival of Rakshabandhan started being celebrated on this day.
Indrani Shachi tied Rakhi to Devraj Indra

There is a legend in Bhavishya Purana, according to which once a fierce battle took place between Devraj Indra and Vatrasur. To protect Devraj Indra in this war, Indrani Shachi tied a rakhi on Devraj Indra's wrist on the day of Shravan Purnima, who protected Devraj Indra in the war and he was victorious in the war. This story of Raksha Bandhan happened in Satyug.
The story of Rakhi is like this too

Alexander had thought of hoisting his flag all over the world, he entered the border of India by fighting all around and winning, he faced the king of India, Peru. After biting the dust, Alexander's wife sent Rakhi to King Puru to protect her husband.
King Puru was taken aback but out of respect for the rakhi's stains, he tied it on his wrist. When Sikandar and Raja Puru came face to face and Raja Puru raised his sword to kill Sikandar, he saw the rakhi tied on his wrist and stopped the sword, and was taken as prisoner. On the other hand, when Alexander saw the rakhi sent by his wife on the wrist of King Puru, he also showed his big heart and freed King Puru respectfully and returned to his kingdom.