On the festival of Rakshabandhan, people are always very confused about the shadow of Bhadra. Astrologers say that tying a rakhi on the wrist of a brother in the presence of Bhadra on Rakshabandhan is considered inauspicious. Today we will tell you who Bhadra is and why sisters are afraid of tying Rakhi in Bhadra kaal to brothers ?
Jyotish Shastra
In Jyotish Shastra, the clear values of date, grah, nakshatra, yoga karma, etc. are called Panchang. Before doing any auspicious work, the auspicious time is determined by studying the panchang, but there are some times or periods in the panchang in which it is considered forbidden to do any auspicious work, otherwise, there is a possibility of doing it inauspiciously. One such forbidden time is "Bhadra". According to mythology, She is the sister of Shani Dev, born from God Surya and his wife Chhaya. The son of Vishwakarma is the husband of Bhadra.
Bhadra kaal
In Hinduism, before every auspicious work, the period of Bhadra is known, only after that, it is decided whether to carry out or postpone the work. So all the natives know the muhurat from the scholar of Jyotish Shastra before doing any work or buying the item. The time of Muhurat is determined keeping in mind the time of this kaal. If Bhadrakal happens during any festival or festival then some auspicious activities related to that festival cannot be done at that time. At that time, all important work will be done keeping Bhadrakal in mind.
How did Bhadra originated?

It is believed that Bhadra was born with the face of a donkey and a long tail and three legs to kill the demons. According to mythology, Bhadra is the daughter of Lord Surya Narayan and his wife Chhaya, and she is sister of Shani. Like Saturn, its nature is also said to be harsh. It was to control her nature that Lord Brahma placed her in Vishti Karan, a major part of Kalganana or Panchang.
Appearance of Bhadra
Bhadra is a girl with a dark complexion, long hair, big teeth, and a fierce appearance. As soon as she was born, Bhadra started to disturb the Yajnas causing trouble in the auspicious works, and started causing pain to the whole world. Seeing her evil nature, Suryadev started to worry about her marriage and they started thinking about how the marriage of this wicked ugly girl be. Everyone rejected Suryadev's marriage proposal. Then Suryadev sought proper advice from Brahmaji.
Brahmaji made her understand about work
Brahmaji then said to Vishti that – 'Bhadre! You should stay at the end of Bav, Balav, Kaulav, etc. and those who enter the house and do other demanding work during your time, then you should disturb them. Those who don't respect, you can destroy their work. Since then, Bhadra began to roam around giving hardship to all beings, gods, demons, and humans. Thus Bhadra was born.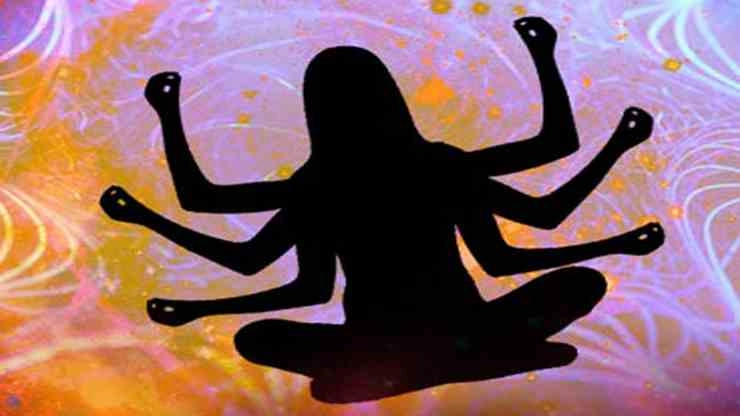 Know the twelve names of Bhadra

She is also known by twelve other names. If for some reason you must do any auspicious work at the time of her, i.e. it is not possible to postpone it, then the natives should fast on that day. She has twelve names – Dhanya, Dadhimukhi, Kulputrika, Bhairavi, Mahakali, Asurana, Epidemic, Vishti, Kharanana, Kalaratri, Maharudra and Kshayankari.
Places she resides and Effects
This is the reason why activities like marriage, house entry, agriculture, industry, Raksha Bandhan, Holika Dahan, and Dah Karma are not performed during Bhadra.
When she stays in the mouth, the work is destroyed.
She lives in Kanth, then wealth is destroyed.
When she lives in the heart, Prana is destroyed.
When she is on the cusp, the achievement of victory and action is proven.
Types of Bhadra

According to Muhurta Granth, the Bhadra of Shukla Paksha is called Vrashiki and the Bhadra of Krishna Paksha is called Serpini. No kind of auspicious work should be done in the caudal part of Scorpio Bhadra and the front part of Serpini Bhadra. It is said in Maharishi Bhrigu's Samhita that Monday and Friday Bhadra is beneficial, Thursday is Punyakari, Saturday is Scorpio and Tuesday, Wednesday and Sunday, she is Bhadrika. Therefore, if there is Bhadra on Monday, Thursday, and Friday, then there is no fault.
When and where does Bhadra live?

It is believed that she lives in heaven, hell, and earth and makes the people there experience happiness and sorrow. When the moon is in Aries, Taurus, Gemini, and Scorpio, then she lives in heaven. When the Moon is in Aquarius, Pisces, Cancer, and Leo, she resides in Prithvi Lok and when the Moon is in Virgo, Libra, Sagittarius, and Capricorn, Bhadra resides in Patal Lok.
In any Muhurta period, she resides five times in the mouth, two times in the throat, eleven times in the heart, four times in the navel, five times in the waist, and three times in the tail. In this situation, She harms work, money, life, etc., but the influence of her in Puchchh is auspicious and gives victory and success. She resides in Ashtami of Shukla Paksha, the first half of Purnima, the second half of Chaturthi and Ekadashi, and a third of Krishna Paksha, the second half of Dashami, the seventh and first half of Chaturthi.
Taboo about work

It is considered forbidden to perform auspicious work. Some examples of manglik works are, Mundan, home initiation, home entry, sanskar, marriage rites, holika dahan, starting a new business, rakshabandhan, etc. Knowing the Muhurat before doing any demanding work means that there is no bhadra at that time. In Muhurta, many calculations are done even after Bhadrakaal, and the condition of planets, Nakshatra, Paksha Yoga, etc. are seen, but first of all, it is seen at the time of Bhadrakaal. Sage Kashyap has described the time of her kaal as having a malefic effect. It is said that auspicious deeds done at this time also have an inauspicious effect on a person. If there is such a situation in which you have to do good deeds in Bhadra, then fast on that day.