Contradictions are found in the Puranas about the origin of Goddess Lakshmi. According to one legend, Goddess Lakshmi originated with the gems that came out during the churning of the ocean, but according to another legend, she is the daughter of sage Bhrigu. She is Maya devi, better half of Lord Vishnu. Let us know about her in brief.
Birth and Family of Devi Lakshmi
You might be aware that according to Shivpuran, the names of the parents of Brahma, Vishnu, and Mahesh have been described as Sadashiv and Durga. Similarly, all three goddesses also had parents. Lakshmi, who was born from the churning of the ocean, may have been a sign of gold being found.
According to the scriptures, Goddess Lakshmi was born on the day of Sharad Purnima. Kartikeya was also born on the day of Sharad Purnima. He is worshiped on Kartik Krishna Amavasya.
Meaning of the name
The word 'Lakshmi' is made up of a combination of two words – one 'Lakshya' and the other 'Mee' means Goddess Lakshmi who leads to the goal.
Other names
Sridevi, Kamala, Dhanya, Harivallabhi, Vishnupriya, Deepa, Deepta, Padmapriya, Padmasundari, Padmavati, Padmanabhapriya, Padmini, Chandra Sahodari, Pushti, Vasundhara, etc. are the main names.
Parents: Khyati and Bhrigu.
 Brother: Dhata and Vidhata
 Sister: Alakshmi
Husband: Lord Vishnu.
Sons: Out of 18 sons, the names of the main 4 sons are- Anand, Kardam, Sreed, and Chiklit.
Residence: resides on a lotus with Lord Vishnu in Kshirsagar.
Festival: Diwali.
Day: Goddess Lakshmi of Friday has been considered in astrology and scriptures.
Vehicle of Goddess
According to a belief, the vehicle of Goddess Lakshmi, the wife of Lord Vishnu, is an owl and the vehicle of Mahalakshmi, the goddess of wealth, is an elephant. According to some, the owl is a symbol of her sister Alakshmi, who is always with her. Goddess Lakshmi comes to visit the earth with Lord Vishnu sitting on her vehicle owl.
Two form
The manifestation of Lakshmiji is seen in two forms – 1. Shrirup and 2. Lakshmi form. In the form of Shri, he is seated on a lotus and in the form of Lakshmi, he is with Lord Vishnu. In the Mahabharata, two types of Lakshmi 'Vishnupatni Lakshmi' and 'Rajyalakshmi' have been mentioned.
According to another belief, Lakshmi has two forms – Bhudevi and Sridevi. Bhudevi is the goddess of earth and Sridevi is the goddess of heaven. The first is associated with fertility, and the second with glory and power. Bhudevi is a simple and cooperative wife while Sridevi is fickle. Vishnu always has to make efforts to keep her happy.
Seed Mantra
Om Hree Shree Lakshmibhyo Namah.
Vrat-Puja: Lakshmi Chalisa, Lakshmiji's Aarti, Lakshmi's glory, Lakshmi Vrat, Lakshmi Pujan, etc. Lakshmiji is worshiped along with Ganesha on Diwali. Goddess Lakshmi is worshiped along with Lord Vishnu. Where this does not happen, Lakshmi's elder sister Alakshmi resides there.
What is Ashtalakshmi?
Eight special forms of Goddess Lakshmi have been called Ashtalakshmi. These are the 8 forms of Mata Lakshmi- Adilakshmi, Dhanalakshmi, Dhanyalakshmi, Gajalakshmi, Santanalakshmi, Veeralakshmi, Vijayalakshmi, Vidyalakshmi.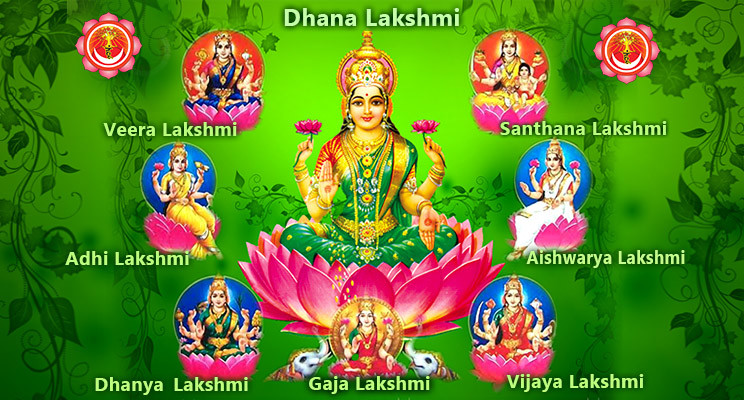 Favorite food of Mata Lakshmi
Makhana, Singhada, Batashe, Sugarcane, Halua, Kheer, Pomegranate, Paan, white and yellow colored sweets, saffron-rice, etc.
Major temples of Mata Lakshmi
Padmavati Temple Tiruchura, Lakshminarayan Temple Vellore, Mahalakshmi Temple Mumbai, Lakshminarayan Temple Delhi, Lakshmi Temple Kolhapur, Ashtalakshmi Temple Chennai, Ashtalakshmi Temple Hyderabad, Lakshmi-Kuber Temple Vadlur (Chennai), Lakshminarayan Temple Jaipur, Mahalakshmi Temple Indore, Golden Temple of Sripuram Tamil Nadu, Pachmatha Temple Jabalpur, etc.
Goddess of wealth
Goddess Lakshmi has a close relationship with Devraj Indra and Kubera. Indra is the king of the gods and heaven and Kubera is on the post of the protector of the treasures of the gods. It is Goddess Lakshmi who bestows this kind of splendor and royal power on Indra and Kubera.
Depiction
Lakshmi of Samudra Manthan is considered the goddess of wealth. She has a pot full of gold in his hand. Lakshmiji keeps showering money through this Kalash. Her vehicle is considered to be a white elephant. 4 hands of Mahalakshmiji have been told. She is the symbol of 1 goal and 4 natures (vision, determination, hard work, and systematic power), and Maa Mahalakshmiji shower blessings on her devotees with all her hands.
Vishnupriya Lakshmi
Mother Lakshmi was the daughter of sage Bhrigu. His mother's name was Khyati. (The Lakshmi who was born from Kshirsagar after the churning of the ocean has nothing to do with him.) Maharishi Bhrigu was Vishnu's father-in-law and Shiva's brother-in-law. Maharishi Bhrigu has also got a place in the Saptarishis. King Daksha's brother Bhrigu was a sage. This means she was the niece of King Daksha. Mother Lakshmi's two brothers were givers and creators. Lord Shiva's first wife Mata Sati was his (Lakshmiji's) step-sister. Sati was the daughter of King Daksha.
Marriage Story
Once a Swayamvar was organized for Lakshmiji. Mata Lakshmi had already accepted Vishnu as her husband, but Narad Muni also wanted to marry Lakshmi. Naradji thought that this princess would marry him only after getting the form of Hari. Then Naradji went to Lord Vishnu to ask for a beautiful form like Hari. Lord Vishnu gave him the form of Hari as per the wish of Narad. When Narad reached the Swayamvara of the princess in the form of Hari, he believed that the princess would garland him, but this did not happen. The princess left Narada and put a garland around Lord Vishnu's neck. When Naradji was returning from there sadly, he saw his face in a reservoir on the way. Narad was surprised to see his face because his face looked like a monkey's.
One meaning of 'Hari' is Vishnu and there is a monkey. Lord Vishnu had given Narad a monkey form. Narad understood that Lord Vishnu tricked him. He got very angry with God. Narada directly reached Vaikunth and in a fit of rage cursed God that you would have to take birth as a human and go to earth. Just as I have had to bear the separation of a woman, in the same way, you will also have to bear the separation. That's why Vishnu and Goddess Lakshmi had to bear the separation by taking birth as Ram and Sita.
Another story
It is said that Lakshmi Devi was the daughter of the ocean. When Lakshmiji grew up, she became attached to Lord Narayan after hearing the description of his qualities and effects and started doing penance to get him. In the same way, the way Parvatiji did penance to get Shiva. She started doing severe penance on the beach. Thereafter, as per the wish of Lakshmiji, Lord Vishnu accepted her as his wife.
8 incarnations of Lakshmiji
Mahalakshmi, who resides in Vaikunth. Swargalakshmi, who resides in heaven. Radhaji, who resides in Goloka. Dakshina, who resides in Yagya. Grihalakshmi, who resides in the house. Beauty, which resides in everything. Surabhi (Rukmani), who resides in Goloka, and Rajalakshmi (Sita), who resides in Patal and Bhulok.
Lakshmi from Samudra Manthan
A total of 14 types of gems etc. were produced from the churning of the ocean. They were divided among themselves by the Suras (Deva) and the Asuras. First Halahal poison came out, then respectively Kamdhenu cow, Uchchai: shave horse, Airavat elephant, Kaustubh Mani, Kalpadrum Granth, Apsara named Rambha, Mahalakshmi came out after Apsara. It is said that gold came out in the form of Mahalakshmi, which was adopted by Lord Vishnu. After this, the wine called Varuni, then the moon, then the Parijat tree, then five jnjya conch, Dhanvantari Vaidya (medicine) and finally nectar came out.
Lakshmi was also born during the churning of the ocean. 'Lakshmi' means Sri and is the origin of prosperity. Some people associate it with gold, but some consider it a goddess. Laxmi, born from the churning of the ocean, is called 'Kamala', which is the last of the 10 Mahavidyas.
Studies show that Laxmi, who emerged from the churning of the ocean, was associated with splendor and prosperity, which contained precious metals like gold and silver, which is the symbol of Laxmi.