Jainism is the most ancient religion in the world. King Janak also belonged to the Jina tradition and his guru Ashtavakra also belonged to the Jina tradition. Lord Ram's ancestor was Rishabhdev in the family of Nabhiraj. Ikshvaku was born in Nabhi's clan. Rishabhdev is the originator and first Tarthankar of Jainism and Rama was born in the Ikshva family. There are many pilgrimage areas of Jainism throughout India. Here is presented important information about 12 major pilgrimages of Jain.
1. Shri Samed Shikharji (Giridih, Jharkhand)
Samed Shikharji is considered to be the most sacred place in Jainism. It is situated on a hill situated on Chotanagpur rock in Giridih district in Indian state Jharkhand. This mountain is called Parsvanath Parvat. Shri Samed Shikharji is revered as the place where 20 of the 24 Tirthankaras (supreme Jain Gurus) of Jainism attained salvation. Here on the 23rd Tirthankar Lord Pasarvanath also attained Nirvana. Among the 24 Tirthankrons of Jainism, the first among the 12 sacred Tirthankar places of Jainism are Lord Adinath, that is, Lord Rishbhdev at Kailash Parvat, 12th Tirthankar Lord Vasupujya at Chanpapuri, 22nd Tirthankar Lord Neminath at Girnar Parvat and 24th and last Tirthankar Lord Mahavir attained salvation in Pavapuri.
2. Ayodhya
The son of Satven Kulkar Nabhiraj of Ayodhya Kulkron's family tradition and Rishbhdev from his wife Marudevi were born Chaitra Krishna Navmi in Ayodhya, hence Ayodhya is also a pilgrimage site for Jainism. Apart from Adinath, Ajitnath, Abhinandannath, Sumitnath, and Anantnath were also born in Ayodhya, hence it is very sacred for Jainism. Rishabh, the son of King Nabhiraj of Ayodhya, sat on the throne after the death of his father and practiced agriculture, craft, asi (Sanya shakti), wisdom (parishram), commerce, and education in 6 special forms of ajivika. This made the situation and the country divided into citizens and people and castes etc. They have made sons of India and women and they have made daughters of Brahmi and Sundri who have studied all the knowledge. The country was named Bharat after the name of his son Bharat.
3. Kailash
Mount Kailash is called Rishbhdev by Hindu Vrishbhdev. By the way, his Bhav symbol is also Vrishabh. The meaning of Rishabh is hota hai bail. Lord Shiva is also called Adinath and Rishbhadev is also called. Rishbhdev had attained Kaivalya knowledge on Mount Kailash. By saying nath, nathon has nath. He is not a Jaina, he is a tirthankar of Hindu and all religions because he is the most ancient Adinath. Rishbhdev is the fifth of the svayanbhu manu in order – svayanbhu manu, priyavrat, agnigra, nabhi and then rishabh. Kulakar Nabhiraj is the beginning of this Ishvaku clan.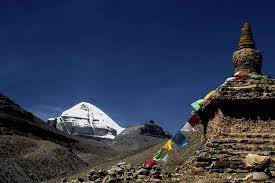 4. Parshrvanath, Varanasi
Lord Pashrvanath is the 23rd Tirthakar of the Jain religion. Pashwanath founded Char Gunon or Sangh. Each song worked under one Ganadhar. It is believed that most of the life of Mahatma Buddha also followed the Pasharavanath religion. The birth of Pashravanath took place in Varanasi on the day of Krishna Dashmi. His father breathed his last and became the king of Varanasi. His mother's name was 'Vama'. Lord Pasarvanath renounced the world and became a Sannyasi at the age of 30.
On the Chaturthi of Chaitra Krishna Paksha my Diksha Grahan. After doing severe penance for 83 days, on the 84th day he attained Kaivalya Gyan at the peak on the Chaturthi of Chaitra Krishna Paksha. Then Shravan Shukla attained nirvan on the summit of Ashtami. After Kaivalya Gyan he taught Chaturyaam (Satya, Ahimsa, Astey, Aprigrah). After attaining knowledge, he propagated his thoughts and ideas for 70 years and left his body at the age of 100 years.
5. Tirtharaj Kundlpur
599 years ago, Chaitra Shukla was born as the third child of father Siddharth and mother Trishla in Kshatriya Kundlpur of Vaishali Gantantra. Here Vardhaman's bad men became Swami Mahavir. Regarding Vardhaman, the brother's name was Nandivardhan, and the sister's name was Sudarshana. Mahavir Swami's parents followed the 23rd Tirthankar Pasarvanath of Jainism. Kundlpur is situated in the Nalanda district of Bihar. This place is 100 kilometers away from Patna and only 15 kilometers away from Bihar Sharif. This place is considered a welfare area in Jainism.
6. Pavapuri
Pavapuri pilgrimage is the place where the 24th Tirthankar of Jainism, Lord Mahavir Swami attained Nirvana in 527 Isa Purva at the age of 72 years. This place is situated in Nalanda district in Bihar. Near it are Rajgir and Bodhgya. A stupa commemorating Mahavir's Nirvana still stands here in the form of a shrine. The stones obtained from the stupa are similar to the stones of the ruins of Rajgir, which proves the simultaneity of both places. There is a lake here in which a Jal Mandir has been built. It is believed that the last rites of Lord Mahavir were performed in the middle of this Kamal Sarovar. There is no other ancient Jain temple here. There is a Samavasharan Jain temple here. It is believed that Mahavir Swamiji had given his last speech here.
7. Girnar parvat
Lord Neminath, the 22nd Tirthankar, attained Kaivalya Gyan (moksha) on Mount Girnar pilgrimage. This is known as Siddha Kshetra. Apart from Neminath Swami, 72 crore 700 saints have attained salvation from here. In Kathiyawar, there is the foothills of Girnar mountain at a distance of 4-5 miles from Junagarh station. After eating 7,000 sirhiyaans during the meal, one gets darshan of the Lord. Mul believed and used it in the form of sayings.
8. Chanpapuri
12th Tirthankar Lord Vasupujya attained salvation in Chanpapuri pilgrimage. Vasupujya Swami's 22nd Tirthankar meeting took place in Chanpapuri in 3137 AD and is clearly found in Hindu Jain Puranas. Neminath was the Yadvanshi king of Mathura and the eldest son of Hkvrishni, the son of Samudravijay. Andhkvrishni's most injured son was Vasudev's son Lord Shri Krishna. This is the kind of tirthankar that Neminath and Lord Shri Krishna both seek. Neminath's mother's name was Shiva. Neminath was married to Rajulmti, daughter of Raja Ugrasen of Junagarh.
During the marriage, a tragic incident left him shattered and at that very moment, he went crying for penance to Girnar Mountain. After a few taps, Vahan attained Kaivalya Gyan and followed the Shraman tradition. The first glimpse of the religious trend of non-violence was born in Shatabhisha Nakshatra on the Krishna Paksha of Falgun month. His mother's name was Jayadevi and father's name was Raja Vasupujya. After attaining Diksha, after a month of hard work, Vasupujya, in the niche of the 'Patal' tree in Chanpapuri, attained "Kaivalya Gyan" under the guidance of the sage. He attained Nirvana in Chanpapuri on the Chaturdashi of Shukla Paksha of Ashar month.
9. Shravnbelgola
This ancient pilgrimage place is situated at Gommateshvar place of Shravnbelgola in Bhaiya district of Bharatiya state Karnataka. A huge statue of Lord Bahubali is installed here, which is made of ancient stone. It took approximately 12 years to make this statue. Bahubali was also called Gomteshwar. In Shravlbelgola, behind the Gommateshvar gate or on a stone, the grass of Pradesh was spread by a chicken and a snake, which people started calling Bahubali as Kukkuteshvar.
No one could reach the place due to it being a terrible forest so this statue would disappear from people's memory. Chamunda Ray, the minister of Gang Vanshiya Rayamalla, wanted to show this statue in its original form, but during a visit to Podanpur, Shravn Belgola, a member of the Samajwadi Party, got the statue of Gommateshvar built in the style of the idol of Podanpur. The statue of Gommateshwar is considered to be one of the largest statues in the world. In Shravnbelgola, two mountains named Chandragiri and Vindhyagiri are nearby. A 57 feet high Bahubali statue sits on the mountain. Mahamastakabhishek is held every 12 years.
10. Chulgiri
Bavngja (Chulgiri) pilgrimage is 8 km from the colorful city of Madhya Pradesh. At this sacred place, there is an 84 feet high colossal statue of Rishbhdevji (Adinath), the first Tirthankar of Jainism. Located in the picturesque surroundings of Satpura, this statue is of brown color and is carved out of stone. The Khadgasan statue of Adinath is in Chulgiri (Malvdesh-Barvani), surrounded by the huts of Satpura, established by Arakirti between 1166 and 1288 AD. According to an inscription, in 1516, Bhattarak Ratnkirti renovated the Bavnganja temple and built 10 temples near the temple.
In the middle of the year, this statue is suffering from neglect and can be severely damaged by heat, rain and strong winds. When Diganbar Jain community got attention or tha, he along with Bharti Puratatva department officials and engineers made a plan for the restoration of the statue. Pratima was founded by Vikram Sanvat in 1979. As a result, the domes of the statue were made and to protect it from sun and rain, it was covered with a 40 feet long and 15 feet plinth and covered with copper panels. The statue of Adinath of Malvdev and Gopgiri (Gwalior) is in Gwalior. One is on the banks of Narmada river and the other is on the banks of Golden Rekha river. Both of them are Siddhakshetra. Indrajit and Kunbhakarn have been freed from Chulgiri and only Supratishthit has attained salvation from Gopachal.
11. Chandkheri
Near Chandkheri Kota pilgrimage there is an ancient city named Khanpur. There is an old settlement named Chandkheri at a distance of 2 furlongs from Khanpur. There is a huge Jain temple here in the ground and there are many huge Jain statues. South-eastern Rajasthan Kota is 8 km from Jankshan (Kota). Situated in the south, near Khanpur town of Jhalwar district, Chandkheri is situated on the banks of Rupali river. In the main sanctum sanctorum of the temple located here, there is a huge pond in which the idol of Lord Adinath's red stone Padmasnavastha is displayed. This is the second Manogya statue of India after the Bahubali statue of Shravnbelgola. In fact, this main statue was buried by rain in a part of Barha Pati mountain, 6 miles away from the area.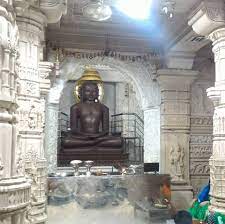 12. Palitana Jain
Tirth Palitana Jain pilgrimage is situated on Shatrunjya mountain at a distance of 51 km from Bhavanagar, Gujarat. The Jain temple of Palitan has been built according to Uttar Bhartiya Vastushilp. More than 900 temples are situated on the slopes of Shatrunjya Paharon. In the 11th century, two temples were built in the courtyard. The Jain temple situated on Shatrunjya is dedicated to the first tirthankar Rishbhdev. Here the names of major Jain temples like Adinath, Vimlshah, Sampratiraja Kumarpal, Chaimukh Aadi are mentioned. Palitana Jain temple holds the status of a major pilgrimage site for Jains and followers of Jainism have come to see the avasya here.